Kenya Seen Facing $4 Billion Factory Price Tag Sells Bond
Robert Brand and Eric Ombok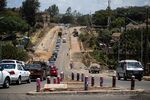 Kenya is selling its first bond in a year to help pay for power plants, highways and water-treatment systems as East Africa's biggest economy needs $4 billion of annual infrastructure investment.
In a rare sale of infrastructure bonds in Africa according to Rand Merchant Bank, the government is selling 15 billion shillings ($168 million) of 12-year securities until Oct. 21 at a fixed rate of 11 percent, according to the central bank. Kenyan local currency debt returned 7.9 percent this year through Oct. 14, compared with a 5.6 percent average gain for 31 emerging markets tracked by Bloomberg indexes.
The government of the world's largest exporter of black tea needs to build roads, provide safe water, produce electricity and improve irrigation systems to maintain economic growth that may outpace sub-Saharan Africa for a second consecutive year. The sale is part of a plan to raise 35 billion shillings through infrastructure bonds in the fiscal year through June, the central bank said in an undated statement e-mailed Oct. 14.
"Kenya almost has a niche market in this kind of financing," Nema Ramkhelawan-Bhana, Africa analyst at RMB in Johannesburg, said by phone yesterday. "The infrastructure bonds are tax-free, which is obviously a major incentive for an investor. From the government's point of view, they get to share the financing between private and public, and they benefit from lower yields."
Investors 'Keen'
Yields on infrastructure debt due September 2025, issued last year at an 11 percent coupon, fell 74 basis points in 2014 to 11 percent by 4:13 p.m. in Nairobi. While Kenya hasn't offered regular 12-year government bonds, it issued 10-year notes at an average yield of 12.3 percent on Sept. 23, according to data compiled by Bloomberg.
"There's a lot of demand, investors are very keen to buy that paper, that 15 billion shillings is too small for the market," Fred Moturi, head of fixed-income trading at Sterling Capital Ltd. in Nairobi, said by phone yesterday. "The market can supply 50 billion shillings without breaking a sweat."
The African Development Bank's $4 billion price tag for Kenya's infrastructure needs is among the highest on the continent, according to the Tunis-based lender. With 7 percent of roads paved, power prices higher than neighboring nations and only 15 percent of available water resources developed, spending on infrastructure has "the potential to help transform the economy," the bank said in a February report.
'Support Growth'
Investors in the county's debut Eurobonds, sold in June, were warned in the prospectus that a "failure to significantly improve Kenya's infrastructure in order to support growth in the key sectors of its economy may constrain Kenya's overall economic growth."
African Eurobonds fell yesterday as oil prices led a global commodities slump. Kenya's June 2024 yields increased 37 basis points to 6.56 percent.
Kenya's expansion is forecast at 5.3 percent this year, compared with 5.1 percent for sub-Saharan Africa, the International Monetary Fund said Oct. 7. Last month, Kenya revised its gross domestic product calculation, boosting the size of the economy by a quarter to $55.2 billion.
About 20 billion shillings of the infrastructure debt will be spent on road construction, 11 billion shillings for power and energy projects and 3.9 billion shillings for water and sewerage, according to the central bank. The principal will be repaid on an amortizing basis at the end of the fourth, eighth and 12th years, it said. With high investor demand, as much as 25 billion shillings may be sold in the tranche now open, said Stanslaus Kimani, a fixed-income trader at Nairobi-based African Alliance Kenya Investment Bank Ltd.
"There is a lot of foreign interest," he said by phone Oct. 14. "To the foreign investor, 11 percent is a gold mine."
Before it's here, it's on the Bloomberg Terminal.
LEARN MORE