Hong Kong Police Charm Offensive Goes Awry After Beating
David Tweed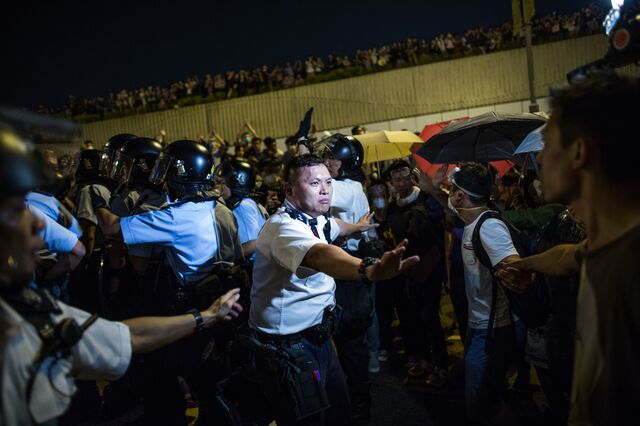 A four-minute news video showing a pro-democracy protester being beaten and kicked by Hong Kong police is unraveling more than two weeks of efforts to win back the hearts and minds of Hong Kong citizens.
After adopting a hands-off crowd-control strategy following international criticism for lobbing tear gas into a mostly peaceful crowd on Sept. 28, a group of plainclothes police yesterday allegedly beat Ken Tsang, a member of Hong Kong's Civic Party, while employing pepper spray on other demonstrators during clashes to clear a key road in central Hong Kong that was occupied hours earlier.
Their actions allied Hong Kong's public, though not to the extent that the use of tear gas did on Sept. 28, when it transformed a protest by a few thousand students into an occupation of large swathes of the city by as many as 200,000 people. Hong Kong's Chief Executive Leung Chun-ying said today his government is ready to meet with student leaders next week as he seeks to end the biggest challenge to China's rule of the city since it regained sovereignty in 1997.
"Police behavior went over the top again," said Michael Davis, a law professor at the University of Hong Kong. "That is a source of outrage, but at the same time, there is a sense that the public has spoken -- people have come out in hundreds or thousands to indicate their views."
Shoving, Kicking
Police carrying shields advanced on protesters on Lung Wo Road early yesterday morning, tearing away umbrellas used to protect against pepper spray, shoving and kicking them back. The road, adjacent to the Hong Kong headquarters of the People's Liberation Army, had been blocked with paving stones and manhole covers late Oct. 14 after police used chain saws and sledgehammers to remove bamboo barricades from Queensway, one of Hong Kong's main arterial roads, earlier in the day.
"I can't understand why umbrellas are weapons and even raising hands up are threats to the police," said J. Long, a 20-year-old university student, who declined to give his full name for fear of reprisals. "Shouldn't the police be professionally trained? I understand the front line police have got their own difficulties but you can't just beat people up."
Though the police employed force to clear Lung Wo Road, their actions were reasonable given the opposition they faced, said Steve Vickers, chief executive officer of Steve Vickers & Associates, an advisory firm on political and corporate risk.
Showing Restraint
"I would say police have operated with great restraint, with no use" of tear gas, Vickers said on Bloomberg Television. Vickers is a former head of the Royal Hong Kong Police's Criminal Intelligence Bureau who has lived in Hong Kong for 38 years. "One reason why they collided so aggressively with the protesters is that they didn't use" tear gas.
Hong Kong is one of the world's safest cities and public unrest is rare, limiting conflicts between the police and general public. Since the use of the tear gas on Sept. 28, the police have largely let the protesters have their way in a huge stretch of central Hong Kong, disrupting commerce and transportation in the city of 7.2 million people for more than two weeks.
"If this happened in London, Sydney or New York -- you can't let a city come to a stand still -- the police would clear the roads, unquestionably," said Nick O'Brien, head of the Australian Graduate School of Policing and Security at Charles Sturt University in Canberra and a former Scotland Yard anti-terrorism officer.
Vetted by China
The student-led demonstrations began Sept. 26 to oppose China's decision that candidates for the 2017 election of chief executive, the city's leader, be vetted by a committee. Critics say the system is designed to produce a new leader effectively handpicked by the government in Beijing.
Between the Sept. 28 use of tear gas and Oct. 14, Hong Kong's police had been working to improve relations with the public, refraining from manhandling protesters, using female negotiators to talk to students and, on Oct. 13, protecting pro-democracy demonstrators from a mob of hundreds who tried to tear down barricades to open roads.
Then came yesterday's video footage from Television Broadcasts Ltd. apparently showing Tsang, the Hong Kong's Civic Party member, being beaten by officers following his arrest during the Lung Wo Road clash. Another TV channel, Now TV, broadcast footage that it said showed Tsang throwing water onto police in the moments before he was detained.
'Barbaric' Treatment
Tsang, a member of the election committee that chose the city's current chief executive in 2012, was pushed to the ground and subjected to "barbaric and violent" treatment, Occupy Central With Love and Peace, one of the main protest organizers, said in an e-mailed statement. Occupy Central sent photos it said showed Tsang's injuries and included circular bruises on his back. Tsang was taken to Ruttonjee Hospital for examination, released into police custody and freed on bail last night.
"You may have seen the TV footage of a number of police officers assaulting me while I was detained and defenseless," Tsang told reporters outside of the police station after he was released on bail. "Prior to that, I'd been assaulted and was later assaulted yet again in the police station."
The seven police officers involved in Tsang's arrest were suspended, Senior Superintendent Kong Man-keung said at a briefing today. The police complaints unit is investigating the case.
Police action to prosecute the offenders may be too late to undo the damage to their reputation.
"Any unwarranted use of force against people, even if they have been doing something, is wholly unacceptable," said O'Brien. "All the good that Hong Kong police have done over the past few weeks will be undone. People will always remember the bad incident."
Before it's here, it's on the Bloomberg Terminal.
LEARN MORE