Greek Fragility Exposed as Traders Seek Exit: Chart of the Day
David Goodman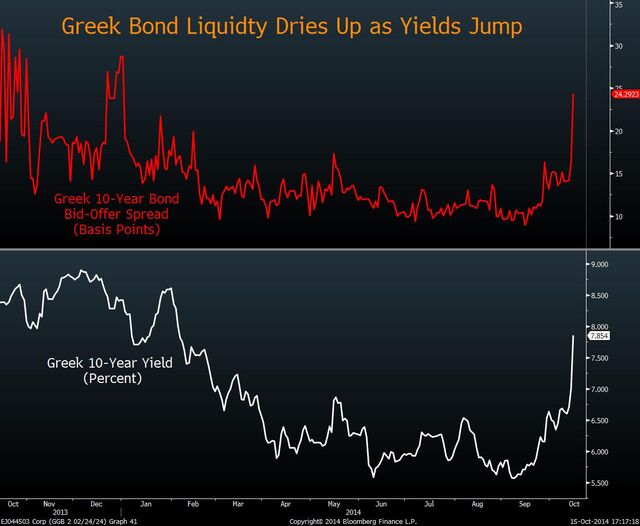 Investors who bought Greek bonds during their world-leading rally may have found the trade more difficult to exit during yesterday's selloff.
The CHART OF THE DAY shows the gap between yields at which traders were willing to buy and sell the securities widened yesterday to the most since December. That reflects a lack of liquidity in the securities as market makers priced in a higher risk premium to trade them, exacerbating price swings.
Greece's bonds plunged on speculation the government's plan to end its bailout early would leave the nation unable to raise funding. Adding to the selloff was a slump in higher-yielding assets on concern that global growth is slowing, compounded by U.S. economic data that missed analyst forecasts.
"It's a combination of a lack of liquidity and re-pricing of the Greek risk," said Alessandro Giansanti, a senior rates strategist at ING Groep NV in Amsterdam. "In the current risk-off environment it will be almost impossible for Greece to issue bonds in the market."
The difference between the bid and offer yield for Greek 10-year securities ended yesterday at 24 basis points, according to data compiled by Bloomberg. In contrast, the spread on benchmark German bunds was about 0.2 basis point.
Greece's 10-year yield rose the most since July 23, 2012, extending a five-week increase and eating into returns since the start of 2013 that made the securities the best-performing government debt tracked by Bloomberg World Bond Indexes.
Before it's here, it's on the Bloomberg Terminal.
LEARN MORE