Don't Bet Against Hong Kong, Says Former HSBC Asia-Pacific Chief
Bloomberg News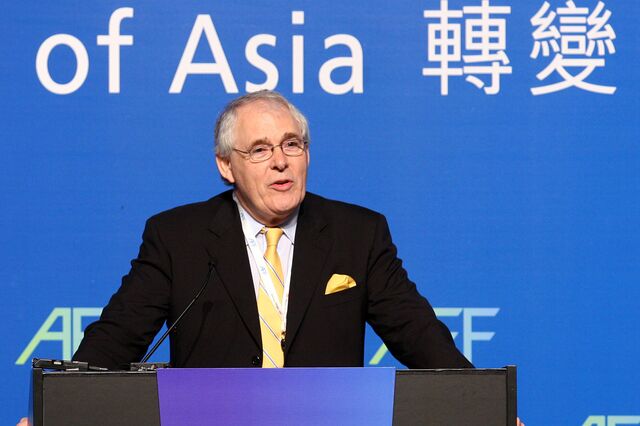 Hong Kong's protests pose a less serious threat to the city than a 2003 SARS epidemic and it would be "alarmist" for firms to consider leaving, said David Eldon, a former Asia-Pacific chairman for HSBC Holdings Plc.
"To consider moving away from Hong Kong now would definitely be alarmist," Eldon, who's based in Hong Kong, said in e-mailed responses to questions this week. "And it has to be said that few people have ever benefited from betting against Hong Kong." The 69-year-old was chairman of Hongkong & Shanghai Banking Corp. from 1999-2005, and now chairs HSBC Bank Middle East Ltd. and HSBC Bank Oman S.A.O.G.
That picture could change if the protests extend for a "long time," hurting businesses and forcing them to reconsider their options, the banker said. While police are dismantling barricades and reclaiming streets, it's not clear when or how the student-led pro-democracy protests will end. Police and demonstrators clashed last night.
The protesters should stop disrupting Hong Kong workers, while the government could start "full and open dialogues with a group of citizens that included representatives of the student body," said Eldon, adding his views were his own, not HSBC's.
Severe acute respiratory syndrome killed almost 300 people in the city and triggered an economic slump, a crisis that Eldon said was "much more serious" than current demonstrations.
Police pepper-sprayed some protesters early today as they reclaimed an underpass in Admiralty, the district that includes the government's headquarters and remains a stronghold for the students. Activists are demanding that the Chinese government drops plans to vet candidates for Hong Kong's chief executive election in 2017, which is intended to be the city's first under a one-person, one-vote system.
Eldon said on his blog last week that Chief Executive Leung Chun-ying could come under pressure to step down after disclosures about payments Leung received from an overseas company.
— With assistance by Jun Luo
Before it's here, it's on the Bloomberg Terminal.
LEARN MORE