Courts Are Ruling on Voting Laws – Here's Where They Stand
Court decisions on state voting laws are coming at a fast and furious clip. Here's where they stand.
By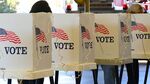 There's nothing like a few major court rulings to confuse voters just weeks before the midterm elections. As in 2012, fights over laws cutting early voting periods or imposing new voter identification requirements are playing out in several states. The Supreme Court has already gotten involved in three cases and is likely to rule on a fourth before Election Day. A fifth state, Arkansas, had its voter ID law ruled unconstitutional by the state's Supreme Court on Wednesday night. 
The issue remains one of the most contentious in politics.  Democrats hate voter laws, arguing that they are a deliberate effort to suppress voting, particularly among minorities.  President Bill Clinton and former Secretary of State Hillary Clinton, among others, are using Republican-fueled changes to voting laws around the country as a way to rally the party's voters.
Republicans counter that laws requiring identification at the polls or cutting down on early voting hours both root out fraud and streamline state and county operations.  Meantime, outside groups representing both parties have also taken to funneling money into state-based secretary of state races in an effort to swing the future debate on the laws. 
As it stands, 34 U.S. states have some form of voter identification law, 31 of which are in force. Sixteen of the laws require voters to present a photo ID, according to the National Conference of State Legislatures website.
My Bloomberg News colleague Mark Niquette has a thorough backgrounder here, but here's a quick rundown of where things stand.
Texas 
Law in question: Requirement that voters must present a valid photo ID in order to cast a ballot. 
What the courts say:  On October 9, a federal judge struck the law down as unconstitutional. On Tuesday, the state won emergency permission to keep the law in place for the November 4 election. An emergency appeal to vacate that decision was filed Wednesday with the U.S. Supreme Court. 
Biggest impact:  This case is central to Attorney General Eric Holder's strategy to push back against voter identification laws, following the Supreme Court's decision to strike a central tenet of the Voting Rights Act. That ruling cut down a decades-old formula used to require all or part of 15 states with histories of discrimination to get federal approval before changing their election rules. At the time Holder announced his push, election law expert Rick Hasen (his blog is a must-read on these issues) called the strategy "something of a high stakes gamble." 
Wisconsin
Law in question: A 2011 law requiring voters to present a photo ID. 
What the courts say:  On October 9, a divided Supreme Court blocked the law. Civil rights advocates said the combination of untrained poll workers and voters unaware that they needed an ID would have created chaos on Election Day.
Biggest impact: The state's governor's race, where polls show incumbent Republican Scott Walker is deadlocked with Democrat Mary Burke. 
North Carolina
Law in question:  A state-imposed rule barring same-day-registration and out of precinct voting.
What the courts say:  The Supreme Court on October 9 allowed the state law to take effect. 
Biggest impact: The U.S. Senate race, where incumbent Democrat Kay Hagan is in a dead heat with Republican challenger Thom Tillis. 
Ohio
Law in question: Earlier this year, Governor John Kasich signed into law changes that ended the state's so-called "Golden Week," an early voting period where individuals can register and cast ballots on the same day. 
What the courts say:  On September 29, the Supreme Court blocked blocked a unanimous federal appeals court ruling that would have reinstated the period. 
Biggest impact: Democrats have all but ceded the governor's race, but there are down-ballot races, most notably on the secretary of state level, where changes to voting laws have been central to the party's turnout push. 
Arkansas
Law in question: The Arkansas legislature overrode Democratic Governor Mike Beebe's veto last year to enact a law requiring voters show photo identification to cast a ballot. 
What the courts say: The Arkansas Supreme Court ruled on Wednesday night that the law was unconstitutional and would serve to "disenfranchise Arkansas voters." 
Biggest impact: Arkansas is home to another Senate race central to which party controls the chamber. Democrats are in the middle of a major turnout push inside the state in support of incumbent Mark Pryor. Early voting starts next week. Doyle Webb, the chairman of the state GOP, said in a statement he does "not anticipate this will have any impact on Republican victories in November since the people of Arkansas now identify with the views and values of the of the Republican Party as reflected in the last two election cycles."