Courts Are Ruling on Voting Laws – Here's Where They Stand
Court decisions on state voting laws are coming at a fast and furious clip. Here's where they stand.
By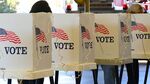 There's nothing like a few major court rulings to confuse voters just weeks before the midterm elections. As in 2012, fights over laws cutting early voting periods or imposing new voter identification requirements are playing out in several states. The Supreme Court has already gotten involved in three cases and is likely to rule on a fourth before Election Day. A fifth state, Arkansas, had its voter ID law ruled unconstitutional by the state's Supreme Court on Wednesday night.