American Apparel Said to Pay Interest as CEO Crisis Eases
Matt Townsend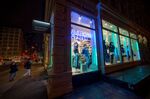 American Apparel Inc., which was threatened with default after the ouster of Chief Executive Officer Dov Charney in June, plans to take another step toward stability today by paying interest on its bonds, according to people familiar with the situation.
The Los Angeles-based chain will make a payment of about $13 million by today's due date, according to the people, who asked not to be identified because the matter isn't public.
The move signals that American Apparel is pulling back from the abyss it faced in the aftermath of Charney's suspension as CEO. Lion Capital LLP, an American Apparel creditor, had demanded immediate repayment of its loan in July, saying Charney's exit put the retailer in default. American Apparel resolved the crisis by getting a capital commitment of as much as $25 million from investor Standard General LP, a New York-based hedge fund. That allowed it to cover the loan and gain some financial cushion.
Allan Mayer, co-chairman of American Apparel, declined to comment.
Charney was removed as CEO on June 18 by the board, which accused him of violating the sexual-harassment policy and misusing corporate funds. He vowed to get his job back and hired Patricia Glaser, a lawyer for celebrity clients such as Paula Deen, to fight the firing. She called the allegations baseless.
Board Shakeup
Charney then struck an agreement with Standard General in June in which he borrowed about $20 million to boost his stake to more than 40 percent. To get the deal done, he agreed to share voting rights on his stock with the hedge fund.
The investment firm then pushed American Apparel to replace most of its board. The retailer is now re-evaluating whether to keep him at the chain in a lesser role, people familiar with the matter said last week.
The shares were little changed today in New York, trading at about 65 cents as of 10:14 a.m. They had declined 47 percent this year through yesterday.
The retailer was in danger of not having enough money to make a similar interest payment in April. It then raised about $30 million through a stock offering to help cover the amount due.
The $210 million of first-lien notes, which are secured by a pledge on American Apparel's assets, pay interest every April 15 and Oct. 15, according to a prospectus for the securities. The bonds traded at 113.3 cents on the dollar on Sept. 19 to yield 12 percent, according to Trace, the bond-price reporting system of the Financial Industry Regulatory Authority.
Before it's here, it's on the Bloomberg Terminal.
LEARN MORE