Abe Jobs Push Beyond Tokyo Spurs Regional Lending: Japan Credit
Tesun Oh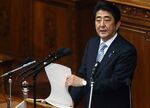 Lending by Japan's regional banks grew at triple the pace of the nation's megabanks as Prime Minister Shinzo Abe acted to rejuvenate areas outside of Tokyo.
Loans by the smaller lenders increased 3.6 percent from a year earlier to 215 trillion yen ($2 trillion) in September, while those by city banks including Mitsubishi UFJ Financial Group Inc. and Sumitomo Mitsui Financial Group Inc. rose 1.2 percent to 201 trillion yen, according to Bank of Japan data. The gap in funds extended was the largest on record since regional banks overtook city lenders in July 2011.
Abe submitted legislation this month to create jobs outside of Tokyo, aiding regional lenders who need to boost their profitability as local populations shrink, according to Dai-ichi Life Research Institute Inc. Megabanks are looking elsewhere for growth with interest rates near zero, expanding overseas loans while cutting domestic mortgages.
"If the Abe administration is able to revitalize regional businesses, regional banks should be able to provide capital investment funds to local companies," said Hideo Kumano, the chief economist in Tokyo at Dai-ichi Life Research. "Bank lending is increasing, but we're not seeing a lot of demand for capital investment funding, and for that, there needs to be new business opportunities."
Average interest rates on new loans in Japan fell to 0.767 percent in August, the lowest in BOJ data going back to 1993. The interest margin on dollar loans in the Asia-Pacific region excluding Japan was at 2.3 percentage points more than the London interbank offered rate on average, according to data compiled by Bloomberg.
Promoting Tourism
Abe said in a policy speech on Sept. 29 that he will try to bolster local economies by relaxing visa requirements, increasing tax-free shops for tourists and supporting the commercialization of local specialty goods. He's also creating six strategic special zones that promise to loosen regulations in areas such as agriculture, medicine and labor.
Japan must "make a powerful start towards building up local regions in which young people can have dreams and hopes for the future," he said.
Regional lenders had core profits of 1.6 trillion yen in the year ended March 31, trailing the 2.5 trillion yen income of city banks, according to Japanese Bankers Association data. The megabanks are able to earn money by lending abroad and making consumer loans through subsidiaries even with lending rates falling, according to Nana Otsuki, a banking analyst at Bank of America Corp. in Tokyo.
Regulator Report
Japan's Financial Services Agency said in a report in July that regional banks are increasing lending by boosting low-margin loans to local public organizations and mortgages. The firms are emphasizing the volume of the deals rather than profitability, the regulator said.
Banks outside of Tokyo need to provide more funding to private companies to improve their earnings, Otsuki said.
"If regional revitalization succeeds in attracting new businesses, funding demand in those areas should expand as well," she said.
Interest rates in Japan have been tumbling as the BOJ carries out unprecedented stimulus to beat deflation, buying about 7 trillion yen of sovereign notes a month. The nation's benchmark 10-year debt yield touched 0.47 percent today, the lowest since April 8 of last year. The yen traded at 106.17 per dollar at 4:11 p.m. in Tokyo, after appreciating to 105.23 yesterday, the strongest since Sept. 8.
The minimum interest rate on a 35-year fixed mortgage fell to a record low of 1.65 percent this month, according to the Japan Housing Finance Agency.
Megabank Mortgages
Mitsubishi UFJ, Sumitomo Mitsui and Mizuho Financial Group Inc., the nation's three biggest banking groups, reduced home loans by a combined 608 billion yen to 40.6 trillion yen in the 12 months to March, according to their latest earnings statements. Sumitomo Mitsui made the largest cut of 244.8 billion yen.
All three banks are increasing overseas lending. Mitsubishi UFJ's loans abroad rose 33 percent to 33.9 trillion yen at the end of March, while Sumitomo Mitsui's increased 13 percent to $165 billion and Mizuho's climbed 9.4 percent to $150.2 billion.
Regional banks might only indirectly benefit if Abe's policies succeed in getting more large companies to move operations outside of Tokyo, according to Shinichi Ina, an analyst at UBS AG.
"Big companies have moved to regional areas before, but we haven't seen local banks increase lending to them," Tokyo-based Ina said. "But there might be a revitalization of the area through increased hiring, and more home loans."
Before it's here, it's on the Bloomberg Terminal.
LEARN MORE