The Short-Term Thinking Behind America's Infrastructure Crisis
By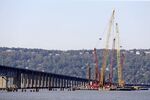 Last week, Larry Summers repeated his plea for the U.S. to invest more in its crumbling infrastructure. He—and the latest World Economic Outlook (PDF) from the International Monetary Fund—are imploring governments to issue additional debt to finance roads, bridges, water treatment, and extension of power grids. Even the most conservative estimates suggest that the projects would pay for themselves, especially with real interest rates below 1 percent.
Investing in infrastructure may seem like a no-brainer, but financing it is more complicated. Most infrastructure projects are chosen and paid for at the state and local level. Even politicians' favorite example of the U.S.'s "third world" infrastructure, New Yorks airports, are under the domain of the local Port Authority of New York and New Jersey. About three-quarters of U.S. highway spending is financed by state and local governments. Which projects are chosen and how they are financed comes down to local politics. And local governments are not making infrastructure investment a priority.
According to Bloomberg News, most states—regardless of which political persuasion dominates them—are issuing less of the debt that ordinarily pays for roads, bridges, and airports.  Municipal bond issuance was down 12 percent in 2013. More than half of of the debt raised went toward renewing funding for existing obligations rather than financing new projects. Overall spending on infrastructure fell.

Summers argues that today's low interest-rate environment makes this an ideal time to invest in infrastructure. A just-released report from Standard and Poor's explains why states are not doing this. Henry Henderson,, a director of public finance at Standard and Poor's, says borrowing for anything, including infrastructure projects, requires states to account for future interest payments in budget projections. Even with low interest rates, that's money they just don't want to spend. Instead resources are going toward other services (such as schools), lowering taxes, and funding pension and health care. About 10 states are proposing tax cuts for 2015, but hardly any states are planning significant infrastructure expansion.
This is short-term thinking. Neglecting infrastructure now increases the cost of repairs in the future, both because there will be more damage and because the cost of borrowing money will probably rise. Interest rates aren't likely to stay so low for long, and the federal government is  considering restricting states' ability to issue tax-exempt bonds. Meanwhile, competing budget pressures will probably intensify. As of now, 74 percent of the liabilities that states owe are unfunded retirement benefits, according to the Standard and Poor's report.
The ratings agency predicts that the private sector will eventually have to step in. The government has already teamed up with private entities to finance infrastructure projects in 33 states. These arrangements, called P3s (for public-private partnerships), are already popular abroad—especially in emerging markets whose high borrowing costs and political corruption have stymied adequate infrastructure investment. Municipalities may find that P3s can serve a similar purpose in the U.S.
Before it's here, it's on the Bloomberg Terminal.
LEARN MORE