Rahm Emanuel's Potential Challenger Won't Run
The teachers union president's decision leaves Chicago's mayor with only one announced challenger.
By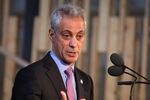 It's a sad twist of fate for Karen Lewis, but a very lucky break for Rahm Emanuel. The re-election chances for Chicago's mayor were significantly boosted by the news that Lewis, the combative Chicago Teachers Union leader, won't challenge Emanuel because of a medical condition.
Lewis hasn't revealed the nature of her illness. The Chicago Sun-Times reported she's suffering from a cancerous brain tumor. She's been among the mayor's fiercest critics, having called him, among other things, "a liar and a bully."
The decision by Lewis, who underwent surgery last week, removes Emanuel's most prominent potential opponent at a time when polls suggest he is vulnerable. Alderman Robert Fioretti remains Emanuel's only well-known, announced challenger ahead of the Feb. 24 election.
Chicagoans haven't been wowed by Emanuel. In a Chicago Tribune poll taken in August, the mayor's job approval rating had dropped to 35 percent. A hypothetical one-on-one matchup showed Lewis would be supported by 43 percent of city voters, compared to 39 percent for Emanuel. But Emanuel's legendary fundraising ability will help him ward off any challenge. He had $8.3 million in his campaign account at the end of June and has likely raised millions more since then. A new super PAC called Chicago Forward also is ready to contribute.