Ebola's in Texas. Rick Perry's in Europe.
Perry assured Americans that the health care system in Texas was working. Now, not so much.
By and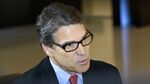 If you're governor of Texas, it's probably best to stay close to home during hurricane season and when Ebola is spreading in your state. This week, Rick Perry is in Europe.