business
McDonald's Now Takes Cash, Credit, and American Express Rewards Points
By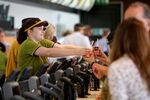 If you are part of American Express's rewards program, you can get a GoPro camera for 25,998 points, a Vitamix blender for 79,800 points, or your own authentic New York hot dog vendor cart for 1 million points. If those lofty points totals seem ages away and you're hungry now, how about a McDonald's Bacon & Cheese Quarter Pounder, just 400 points?
That's right, strange as it may seem, you can now use American Express points at McDonald's. The pay-with-points service will be available at restaurants in New York and Chicago beginning this week, Phoenix and San Francisco next week, and at all of McDonald's 14,000 or so U.S. establishments by December.
"We want to be ubiquitous," says Leslie Berland, executive vice president for digital partnerships and development at American Express. "We want our customers to think about using their American Express card in places they haven't thought about before." She says customers should consider using points to reward themselves every day with French fries, shakes, or burgers. (Technically, you could use points to buy salads, too.)
The conversion rate: 100 points for $1 worth of food. It's a better rate than the GoPro, which retails for $129.99. Anyway, says David Wolf, vice president of global product and business development at American Express, "We wanted it to be quick and convenient. We don't want people sitting there, doing math."
After customers swipe credit cards, they'll see options to pay with rewards points. The number of points required to cover an order will be displayed. Customers click if they want to. The whole transaction is supposed to take just milliseconds.
That's if you're buying food at the counter. The system is less efficient at the drive-thru, where more than half of McDonald's customers get their food. Because customers always have to give credit cards to the McDonald's server, they don't see a payment screen. If they want to use points to cover their meal, they'll have to use the American Express app or go online to redeem points later.
American Express's upscale, business-traveler image notwithstanding, card members already spend hundred of millions of dollars at McDonald's every year. No word on how much of that figure consists of meals in airports during business trips. Berland expects customers will go to McDonald's more frequently and spend more money because of the rewards program. That's what happened earlier this year, when American Express worked out a similar arrangement with Uber and with New York taxis via Verifone, she says.
Mobile payments of all kinds are becoming more popular, of course, making credit cards such as American Express nearly invisible in the process. McDonald's might seem an unusual partner, but American Express hopes this will keep its brand on the screen.
Before it's here, it's on the Bloomberg Terminal.
LEARN MORE