New York Chefs Tip Favorite Restaurants: Fine Dining to Noodles
Richard Vines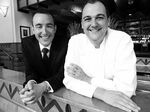 Knowing where to eat in New York City is difficult for those of us who only visit occasionally.
We're in danger of confusing the classic with the dated and the modern with the ephemeral. That's to say nothing of mistaking style for substance. I hate doing that.
I have a solution: I asked leading U.S. restaurateurs where they like to eat in New York. My best meal during a visit last week was with Danny Meyer at his new pizza-and-grill restaurant Marta. Here are the kitchen professionals' picks:
José Andrés (Zaytinya): "I always enjoy going to Soto. It's a small Japanese place with very good uni (sea urchin) dishes. The sushi is good, too. I'm friends with Eric Ripert at Le Bernardin, but I'm never dressed for the dining room, and I like to eat at the bar. I'm that kind of guy. It's high-end and sophisticated but also relaxed. The new luxury is being comfortable. Babbo is amazing. Mario Batali may be a TV guy but when you eat there, you know he's a heck of a chef. For Mexican, I like Empellon. The chef, Alex Stupak, does an excellent job." (Andres plans to open China Chilcano in New York in December.)
April Bloomfield (Spotted Pig): "I've been eating at the NoMad Bar. It's right by work, and it's a great place to pop in and have a glass of wine and some nibbles. Steamed mussels, carrot tartare, and pot pie are things I go for. I go to Maialino a lot. It's right by where I live. I had a delicious corn soup a few weeks back, and I usually eat the pastas. It's very consistent. That's why I go. I love Ivan Ramen. He (chef Ivan Orkin) has the most addictive roast pork musubi -- pulled pork on top of toasted nori, rice, salted plum, and tomato. His ramens are so good. I usually go for the shoyu. It's a fun, relaxed environment."
Daniel Boulud (Daniel): "Maison Premiere has amazing oysters, old absinthe, and a very good chef, Lisa Giffen, who used to work for me and Alain Ducasse. I love it and there is a beautiful garden in the rear where you can eat. I love Estela. The chef (Ignacio Mattos) is South American and he has a very good style of cooking. It's a small place, and very cool, with a great wine list and a small bar. On the Upper West Side, Red Farm is very good. Joe (Ng) makes very good dumplings. In Midtown, the Four Seasons in the Seagram Building is part of New York history. It's where the most powerful businessmen go for lunch and I enjoy the crab cakes and the buffalo tenderloin. ''For a bistro, I like to go to Le Bilboquet on the Upper East Side. It's a great scene. There are a lot of French people, Eurotrash like me. It feels good."
Will Guidara (Eleven Madison Park): "I like Ivan Ramen on the Lower East Side: The ramen is unbelievable, but he also does more plated stuff in addition to it. It's small but with a cool design. It's not just a hole-in-the-wall noodle shop. I've been going to Marta. I love Italian food more than anything in the world. It's great to be able to go in and get a great pizza, and the wine list is affordably priced. It has a wonderful atmosphere. I love going to the bar at Alder. The cocktails are unbelievable and I enjoy the snacks such as a rye pasta with pastrami and pickles.
''I've started going back to Momofuku Ssam Bar: Their duck dinner I had was really nice. The other Asian food place I go is Han Dynasty just a few blocks from here at Eleven Madison Park. It's really cool. I like the bar at Del Posto. As far as fancy restaurants with a casual style go, Del Posto crushes it. The food at Narcissa, in the Standard (hotel) on the Lower East Side, is unbelievable. It's Andre Balazs, the same hotelier as Chiltern Firehouse, so it's a really cool scene. Montmartre is in Chelsea and it's like a classic French bistro menu. They have a back garden. When it's nice out, it's one of the nicest gardens to eat in all of New York City."
Danny Meyer (Gramercy Tavern): "Carbone never fails to hew the line perfectly between red-sauce Italian kitsch and kitchen. Mario Carbone has perfect pitch with pasta and all forms of meat. My favorite is his veal chop, unless I'm in the mood for lamb, which is very good, too. Barbuto is where I go when I want to drop my shoulders, take off the sport coat, and eat. The food is seasonal and always delicious. I begin with a cocktail, then a salad, pasta, and invariably the peerless roast chicken. The wine list always offers plenty of compelling choices. It can get loud, especially in cool weather when the garage doors come down.
''Franny's in Park Slope hits for huge batting average when I'm in the mood for straightforward fare that is just plain satisfying. It would be easy to eat here once a week. I adore their small-plate appetizers, shelling beans drowned in olive oil, any pasta and pizza. My favorite pies are the spicy sausage and freshly shucked clams. The wines are superbly selected."
Drew Nieporent (Nobu): "Pok Pok in Brooklyn is a really good Thai restaurant. Everyone talks about Le Bernardin for fish but Oceana is very good. It's just regained its Michelin star. The good news is that we've cut back a bit on the formality of restaurants. What happens in New York, it's really the neighborhoods. On the Lower East Side, the Ludlow hotel just opened with Dirty French -- the guys who have Carbone. Soho has the Musket Room with a New Zealand chef (Matt Lambert) and his wife (Barbara). It's a brilliant menu and wine list. It's a real change of pace.
''For me, Chinese is always something special in New York. We go to places that have been there for decades, like Wo Hop, in a basement. Round the corner there's Tasty Hand-Pulled Noodles where they make their own noodles. My confrere Danny Meyer just opened a pizza place Marta. We excel in the Italian category, a little bit more than London. Eataly is quite brilliant and then Michael White -- Marea, Costata -- they're still very popular. And I had a meal at Daniel that was sensational."
Jean-Georges Vongerichten (Jean Georges): "I left here at 10:30pm the other night, called my son and we went to the Spotted Pig. It was packed and I didn't know the people on the door. We ate at the bar and had some oysters, chicken liver toast, two beers and half a burger each. The food is simple and flavorful and the burger with blue cheese is a killer. For Asian in New York, I go to Great NY Noodletown in the Bowery. It's a great place for simple Chinese roasted chicken, noodle soup and dumplings. The vegetables are good, too, and it's open until 4 a.m. The food is best-in-class for what it is. You can spend whatever you want. It's amazing value. It's also good for Sunday lunch. I rarely go out for dinner, unless it's a friend's birthday or something, because I'm working. So I go to places late at night.
''I often go to Blue Ribbon in Soho. You can get matzo-ball soup, ribs, and the fried chicken Southern-style is a killer. It's classic New York. It's been there forever. After work, I often go to Sushi Seki on 1st Avenue a lot. It's a very unpretentious place: a sushi hole-in-the-wall in New York via Shanghai. There's a great chef from Shanghai. I sit at the bar and let him cook for me. His sushi always has a perfect vinegar balance, and he also serves some Chinese dishes. I like the shumai and the spicy scallop roll. I love an Italian place in the West Village, L'Artusi. It's just three blocks from my home on Perry Street. Not too many people know about it. They serve great pasta and crudo and wine, and it's open late. It's innovative rather than traditional Italian but the food is simple."
(Richard Vines is the chief food critic for Bloomberg. Follow him on Twitter @richardvines)
Before it's here, it's on the Bloomberg Terminal.
LEARN MORE