Malawi GDP May Be Understated by 40%, Finance Minister Says
Rene Vollgraaff and Eleni Giokos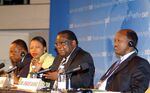 Malawi's economy may be understated by as much as 40 percent, according to Finance Minister Goodall Gondwe.
"The methodology that we are using to calculate gross domestic product has got to be looked at," Gondwe, 78, said in an interview with Bloomberg TV Africa in Washington on Oct. 11. "I'm sure that once we review that, we'll have a higher figure."
Nigeria overhauled its GDP data in April, which increased the size of its economy by more than three-quarters, while Kenya's GDP is now estimated to be 25.3 percent bigger after a similar exercise last month. Malawi's economy is worth $3.71 billion, according to World Bank estimates.
The southern African nation's economy will probably expand an average of 7.5 percent annually over the next five years, Gondwe said. The International Monetary Fund is estimating growth of 5 percent to 6 percent this year.
"We are now about 6 percent, even with the problems that we have now," he said. "We think that once we have ironed out and normalized the problems here, we should be able to come up to about 7.5 percent or more."
The IMF and other donors froze aid to Malawi last year in the wake of reports that almost a third of state funds were being lost through corruption. Malawi relies on donor funds to finance about 40 percent of its budget.
While Malawi's dependence on foreign aid has eased, the country needs to restore fiscal discipline to lure donors and investors, Gondwe said.
Tobacco Producer
"We need a lot of money," he said. "Probably we need close to about $100 million or so, but more importantly we need a considerable amount of money for development projects in the country."
Gondwe, who was finance minister between 2004 and 2009, was appointed to his current position in June after Peter Mutharika was elected president in a contested election.
The Malawian kwacha has lost 20.3 percent against the dollar since the start of last year. The currency gained 2.6 percent and traded at 420 kwacha per dollar as of 4:01 p.m. in Johannesburg today.
"We need to restore macro-economic stability," Gondwe said. "Inflation should go down and the exchange rate should stabilize."
Malawi is Africa's top exporter of burley tobacco, a low-grade variety of the crop. Limbe Leaf Tobacco Co., a unit of U.S.-based Universal Corp., Alliance One International Inc. and Japan Tobacco Inc. are among buyers of the nation's crop.
Before it's here, it's on the Bloomberg Terminal.
LEARN MORE