Hungary Doesn't Plan to Sell More FX Debt in 2014, Balogh Says
Edith Balazs and Zoltan Simon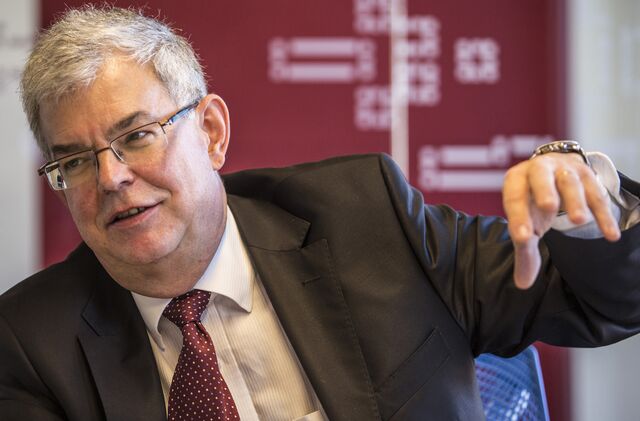 The Hungarian government plans to refrain from tapping the international bond market this year as it seeks to reduce the country's foreign-currency debt.
"The issue of a foreign-currency debt sale this year isn't on the agenda," Economy Ministry Deputy State Secretary Laszlo Balogh said in an interview in Bloomberg's office in Budapest today. The government debt level will show a "slight improvement" at the end of 2014 compared with the end of last year even if the forint rate doesn't change, he said. Hungary last sold foreign debt in March, when it raised $3 billion.
Prime Minister Viktor Orban, whose party won three elections this year, needs to cut the country's debt to avert the risk of re-entering European Union monitoring for budget offenders. Hungary needs a "favorable" exchange rate as the share of foreign-currency debt is about 40 percent of the total, Economy Minister Mihaly Varga said Oct. 3.
"While Hungary could sell Eurobonds next week if they wanted to, it is unlikely they will, as they want to issue more local debt and reduce overall external debt levels," Demetrios Efstathiou, the head of central and eastern Europe, Middle East and Africa strategy at Standard Bank Plc in London, said by e-mail.
The forint has gained 2.8 percent against the euro in the past month, the second-best performance among 24 emerging-market currencies tracked by Bloomberg after the Chilean peso. The yield on the benchmark 10-year bond fell 2 basis points to a record 4.1 percent by 4:23 p.m.
Debt, Rating
The government predicts the debt level will fall to 76.9 percent of gross domestic product by the year-end from 77.3 percent at end-2013. A 1 billion-euro ($1.3 billion) bond maturing at the end of July and the repayment of 2 billion euros to the EU at the end of October will accelerate the decline, Balogh said.
Gross government debt stood at 85 percent of GDP at the end of June, according to central bank data.
"Hungary's economic results will probably convince most rating agencies to change country's credit grade to investment," Balogh said.
Before it's here, it's on the Bloomberg Terminal.
LEARN MORE