Hong Kong Footage of Police Beating Activist Triggers Ire
Fion Li and Natasha Khan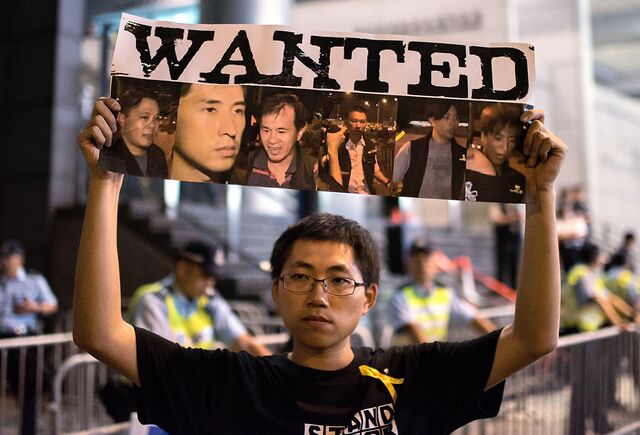 Hong Kong video footage showing police allegedly beating a protester triggered an outcry from hundreds of people who gathered to file complaints and swelled turnout at pro-democracy demonstrations that began last month.
Ken Tsang, a member of the Civic Party, said he will pursue legal action after television images showed him being taken by police officers to a corner at Tamar Park and repeatedly hit and kicked. The police, who arrested 45 people as they drove back protesters who had seized the central Lung Wo Road underpass near the city government's headquarters, said they will investigate.
"You may have seen the TV footage of a number of police officers assaulting me while I was detained and defenseless," Tsang told reporters outside of the police station after he was released on bail. "Prior to that, I'd been assaulted and was later assaulted yet again in the police station.'"
The images drew questions from lawmakers and rekindled public ire following criticism of a police crackdown on protesters who have occupied roads in downtown Hong Kong for almost three weeks. The tussle over the city's streets escalated this week after police shrank the areas controlled by demonstrators, who are seeking elections freer from the influence of China in 2017.
Witnesses Speak
Hundreds of people rallied outside police headquarters chanting "shameful" and "disgraceful." They waved banners and signs, including one that read "I won't leave without an explanation -- shame on the police." Dozens of people queued to file complaints against the alleged beating, with the police letting them through a cordon in small groups.
"The police say they don't have evidence so we are here as witnesses," said a 33-year-old social worker who would only give his surname, Chiu. "Some were at the scene and many others watched the video online."
Protesters at the main demonstration site outside the government's offices held a rally denouncing police violence, with thousands of people sitting on the eight-lane road that they've transformed into a tent-camp. The movement started Sept. 26 when students demanded the government in Beijing drop plans to vet the candidates for the 2017 election of the city's chief executive.
Economic Impact
Attempts at dialogue between the government and student leaders broke down last week, leading to an impasse in the worst political crisis the city has seen since its return to China in 1997.
The government has made contact with students through a middleman in the past few days, Secretary for Constitutional and Mainland Affairs Raymond Tam said in a briefing yesterday. Alex Chow, secretary-general of the Hong Kong Federation of Students, said that while his group would welcome the resumption of talks, they hadn't heard from any intermediaries yet. He said that the government can also reach out directly to his group, instead of going through third parties.
"We can't ignore the fact that the longer this lasts, it does have an implication and impact on the reputation of Hong Kong," Mark McCombe, global head of BlackRock Inc.'s institutional client business and chairman of alternative investors, said yesterday.
Bank of America Corp. cut its forecast for the city's economic growth this year, saying the protests may prompt pro-democracy lawmakers to block bills, deter foreign investment and discourage tourism from mainland China. The benchmark Hang Seng Index rose 0.4 percent at the close, rebounding from its lowest level in two weeks.
Respecting Freedom
The protests are snarling traffic, delaying emergency response services and have led to a drop in the business of retailers in occupied areas by as much as 80 percent, Secretary for Security Lai Tung-kwok said in response to questions in the Legislative Council yesterday.
While the government "respects the right to the freedom of expression" it urged protesters to move demonstrations to parks and clear obstructed streets.
"Unfortunately, these suggestions have not been positively responded to by the road occupants," Lai said, according to a transcript of his remarks.
Seven police officers were involved in the arrest of Tsang, Hong Kong Police Senior Superintendent Hui Chun-tak said yesterday. The police force is investigating a complaint that the officers, who have been removed from their current duties, used excessive force, he said.
Road Scuffles
Officers carrying shields advanced on protesters on Lung Wo Road early yesterday, shoving and kicking them back. Some demonstrators were wrestled to the ground and handcuffed before being led away. The operation came after police used chain saws and sledgehammers to clear barricades and reopen some roads and a tram line feeding the central business district.
The police should "immediately arrest" the officers and investigate, said Alan Leong, head of the Civic Party. Tsang was handcuffed using tape before the assault, he said. Channel Now TV broadcast footage that it said showed Tsang throwing pitchers of water onto police before he was detained.
While condemning the alleged use of excessive force in the clashes, none of the leading student and activist groups behind the protests have claimed responsibility for the attempt to claim Lung Wo Road.
"There isn't a leader, but people at Lung Wo Road agreed and then took the action," said Long, a 20-year university student who was there last night and only wanted to be identified by his family name. "I understand the front-line police have got their own difficulties, but you can't just beat people up."
Today's Clashes
Early this morning, hundreds of protesters wearing masks and carrying umbrellas surrounded Lung Wo Road. While the crackdown of 24 hours earlier hadn't been repeated as of 2:52 a.m. local time, there had been some clashes, with demonstrators hurling verbal abuse at police.
Protesters are challenging China's authority, and should end the demonstrations, Zhang Xiaoming, head of the China's Liaison Office in Hong Kong, said in a statement. China is "deeply concerned" about the situation, he said.
"The government and I are willing to have talks with students representatives on political reforms, but the Federation of Students has different preconditions for talks over the past weeks," Chief Executive Leung Chun-ying said yesterday. Leung had earlier this week signaled that the occupation of the streets shouldn't go on for much longer, as it disrupts traffic and commerce.
Li Ka-shing, Asia's richest man, urged student protesters to return home, saying they have successfully got their message across.
"I urge everyone not to be emotional, I plead with everyone not to let today's emotions becomes tomorrow's regrets," Li said in an e-mailed statement. "I earnestly urge everyone to immediately return to your families."
Before it's here, it's on the Bloomberg Terminal.
LEARN MORE