Hillary Clinton Jokes About Weed
Bill Clinton didn't inhale but his wife sees pot in her coffee. How times have changed.
By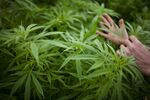 Campaigning in Colorado with Senator Mark Udall, Hillary Clinton looked into her latte and reported seeing a pot leaf.

No, Clinton isn't promoting legalization of recreational marijuana, at least not yet. But it's certainly on her mind as she campaigns in this ganja-loving swing state.