Gulfstream Plans Redo for Jet of Movie Mogul to Soup Heir
Thomas Black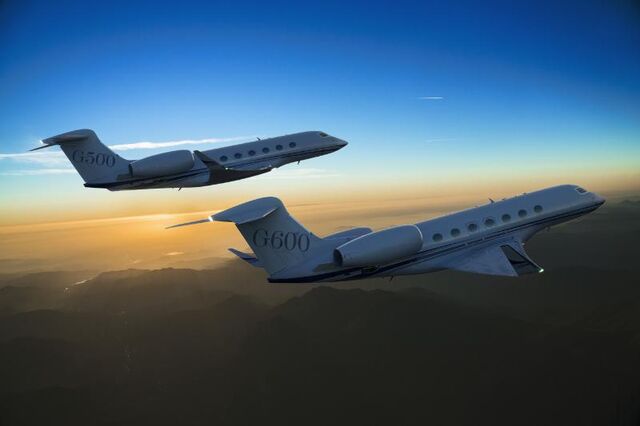 Gulfstream is planning a makeover for its top-selling family of private jets, whose owners include movie producer Jerry Bruckheimer, Paramount Pictures Inc. and the heir to the Campbell Soup fortune.
The new design, which rolled out under its own power at a Savannah, Georgia, factory today, will fly farther and faster, saving as much as an hour per flight, the unit of Falls Church, Virginia-based General Dynamics Corp. said in a statement. The new plane, called the G500, is slated for delivery in 2017.
For a decade, Gulfstream's G450 has been a go-to model for executives who need to cross the U.S. and perhaps the Atlantic, but not make the longest-haul flights over the Pacific or to South America and Africa. The jet began life as the G-IV in the late 1980s. Taken together, the G-IV and G450 family is the highest-seller for Gulfstream.
"It's critical for Gulfstream's long-term success to introduce new models," said Ford von Weise, global head of aircraft finance at Citigroup Inc. "At some point, the older designs really cannot achieve the performance and efficiency of new clean-sheet designs."
The company today also introduced a second plane, the larger G600, which will enter into service about a year later and could replace the G550. The G550 is a favorite of companies that whisk executives around the world including Exxon Mobil Corp., Starbucks Corp. and Qualcomm Inc.
General Dynamics rose 0.3 percent to $118.61 at the close in New York.
Smaller Models
Building on the success of the G650, now the largest and fastest business jet, Gulfstream is catering to demand for longer range and more cabin comfort by putting those amenities in smaller models. G650 deliveries began at the end of 2012, and Gulfstream now has a four-year order backlog.
The new G500 will have a cabin height of 74 inches (1.9 meters), carry as many as 19 passengers and have three living areas. The G600 will have up to four living areas and an optional crew rest area.
Flexjet LLC, a provider of fractional aircraft ownership services, agreed to buy as many as 50 Gulfstream jets, including the new G500. Qatar Airways also agreed to purchase up to 20 planes, including the new model. Gulfstream didn't give the value of the agreements or pricing for the new planes.
Prices for the current Gulfstream models range from $38.9 million for the G450 to $62 million for the G650, according to the website AircraftCompare.com.
Competing Models
Since the G650's debut, France's Dassault Aviation SA has introduced the Falcon 5X, which touts a cabin height of 6-feet-6 inches and range of 5,200 nautical miles (9,600 kilometers). It's scheduled for delivery in 2017.
Canada's Bombardier Inc. is bringing the long-range Global 7000 to market in 2016, while Brazil's Embraer SA is looking at building larger corporate jets.
With today's debut, Gulfstream will continue its lead over competitors, said Myles Walton, a Deutsche Bank AG analyst. The new plane is further along in the production process than is typical of other models at their introduction, Walton said in a telephone interview.
"They're the marquee brand in the market and they most likely will retain their marquee brand where they sit today," Walton said.
Extended Range
The G450 now has a range to fly from New York to London or across North America. The plane and its variants have attracted customers including Tristram Colket Jr., the grandson of Campbell Soup Co. founder John T. Dorrance, and Bruckheimer, who produced movies including "Black Hawk Down," "Top Gun" and the "Pirates of the Caribbean" series, according to U.S. Federal Aviation Administration records. The G500 extends that range by 650 nautical miles to 5,000.
Other customers are Paramount, oil producer ConocoPhillips, retailer J.C. Penney Co. and the Safeway Inc. grocery chain, the records show.
Not all businesses require the range of a G650, which can fly from New York to Beijing at a maximum speed of almost 93 percent of the speed of sound, said Howard Rubel, a New York-based analyst with Jefferies LLC. Sound travels about 750 miles per hour at sea level.
"While the world has gone global, the reason you buy business jets is because you can go to three places in one day that are otherwise inaccessible," Rubel said by phone.
Gulfstream jets win over customers because of how they fly, the reliability and the company's service, said Travis Hamilton, managing director of Group D'Avia, an Oklahoma City-based consulting company that owns seven Gulfstream planes and manages another eight. The company stresses quality over offering a lower price, he said.
"They're going to sell a lot of them," Hamilton said. "People are going to come in and buy it because it's a Gulfstream."
Before it's here, it's on the Bloomberg Terminal.
LEARN MORE