Guinea Says Ebola Pushing Affected Economies to Breaking Point
Andres R. Martinez, Pauline Bax and Eleni Giokos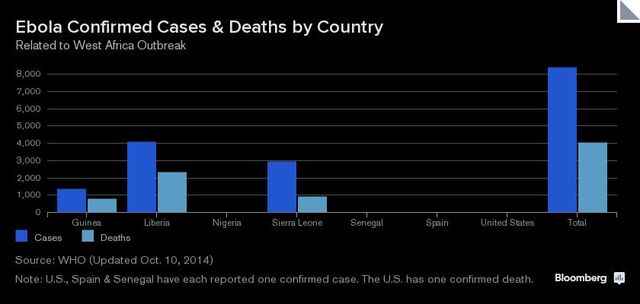 The Ebola outbreak in West Africa is pushing economies in the region to breaking point and billions of dollars are needed to offset the economic damage wrought by the virus, Guinean President Alpha Conde said.
Guinea needs about $1.2 billion to combat the virus and for budget support following the death of 800 people in the country, Conde said in an interview with Bloomberg Africa TV in Washington on Oct. 11. Neighboring Sierra Leone requires as much as $1 billion for similar reasons, the country's finance minister, Kaifala Marah, said in a separate interview.
"We wish the panic would stop," Conde said, referring to the isolation Ebola-stricken countries face as borders are closed to curb the spread of the disease. "In combating Ebola, we risk creating an even worse evil, namely breaking African economies."
Ebola has killed more than 4,000 people in five countries in West Africa since the virus was found in Guinea's eastern forest region in December. Emirates Airline, British Airways Plc and other carriers have scrapped flights to Guinea, Liberia and Sierra Leone. West African economies will lose as much as $32 billion through next year because of the outbreak, throwing Guinea and Liberia into recession, the World Bank said last week.
Guinea requires funds to build 15 Ebola-treatment centers before the end of the month. The country currently has two such facilities. Helicopters may also be necessary to circumvent bad roads, Conde, 76, said.
"The sooner the disease is stopped, the fewer economic consequences there will be," he said. "What we have received so far is not nearly enough."
'Fragile State'
Sierra Leone needs aid to cover the cost of fighting the hemorrhagic fever, paying for imports, and replacing the revenue lost because of the economic slowdown in the country, Marah said.
"We are a fragile state," he said. "We are crunching the numbers to see what should be done: Should we make cuts? should we suspend some development projects? We have no choice."
The government has adjusted its growth forecast to between 7 and 8 percent this year, he said. That compares with an estimate earlier this year of 14 percent, more than double the sub-Saharan African average.
Sierra Leone's two largest iron-ore companies are on the verge of collapse, threatening about 16 percent of the economy. African Minerals Ltd., the largest contributor to the economy, has slumped 92 percent this year. London Mining Plc is down 96 percent as the Ebola outbreak has deterred potential investors for its iron-ore mine.
Before it's here, it's on the Bloomberg Terminal.
LEARN MORE