Australia's Flanagan Wins Booker for Story of Prisoners of War
Tom Beardsworth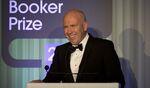 Australian novelist Richard Flanagan won the Man Booker Prize for "The Narrow Road to the Deep North," a novel based on his father's experience as a prisoner of war in World War II.
Flanagan, whose father died the day he finished the novel, received the prize at a black-tie dinner at London's medieval Guildhall late yesterday. He will receive 50,000 pounds ($80,000) for the award, which is the U.K.'s most prestigious and usually prompts a surge in sales.
"The two great themes from the origin of literature are love and war: this is a magnificent novel of love and war," A.C. Grayling, the chairman of the judges, said. "It bridges East and West, past and present, with a story of guilt and heroism."
Flanagan's novel, his sixth, tells the story of prisoners of war working on the notorious Thailand-Burma Death Railway during World War II. He beat bookmakers' favorite Neel Mukherjee, an Indian-born Londoner whose novel "The Lives of Others" was also shortlisted.
"It was the book I had to write in order to keep on writing," Flanagan said after the prize was announced. "My father trusted me. He never asked me what the story was. He trusted me to write a book that might be true."
'Australia' Script
Flanagan, who told reporters last night that he had worked on the script of "Australia," the 2008 film starring Nicole Kidman, said he would use the prize money to "live." His next novel is nearly finished, and he hopes to publish it next year.
Tasmania-born Flanagan was among six authors shortlisted for the prize. Mukherjee's novel is a saga about a young man in 1960s Calcutta engaged in extreme politics and his large, fracturing family. Howard Jacobson, a former U.K. winner, was shortlisted for "J," a love story set in a mysterious future after an unidentified catastrophe.
Fellow Briton Ali Smith, who had been shortlisted twice before, was up for "How to Be Both," which tells the stories of a teenage girl and an Italian renaissance artist. U.S. author Joshua Ferris was nominated for "To Rise Again at a Decent Hour" and Karen Joy Fowler, another American, for "We are All Completely Beside Ourselves."
American Controversy
This year's Booker provoked controversy after trustees made U.S. authors eligible by opening the awards to any English-language writer published in the U.K. The prize, established in 1969, was previously restricted to authors from the U.K., Commonwealth, Ireland and Zimbabwe.
Peter Carey, twice winner of the award, said this week that the move diminished the award's unique literary character. "There was and there is a real Commonwealth culture. It's different," the Australian writer said Monday in an interview with the Guardian newspaper. "America doesn't really feel to be a part of that."
Established by food wholesaler Booker Plc, the prize has been sponsored since 2002 by Man Group Plc, the world's largest publicly traded hedge-fund manager. Last year Eleanor Catton became the youngest author to win the prize, at age 28, for her 800-page novel "The Luminaries."
Before it's here, it's on the Bloomberg Terminal.
LEARN MORE