Ebola Tests America's Weakened Public Health System
Years of cuts have left local health agencies ill-equipped to handle Ebola or any other outbreak
By and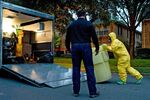 As dozens of health-care workers in Dallas are being monitored for signs of Ebola, public health agencies around the country are preparing for more cases. To prevent the spread of the disease, they must train medical staff, test crisis plans, and communicate with the public. All that must be accomplished by a public health workforce diminished by years of budget cuts.
City, county, and state health departments employ almost 60,000 fewer people than they did in 2008, according to tallies from groups representing health officials. That's a drop of almost 20 percent in six years.
The decline is a consequence of the recession, which cut tax revenue to state and local governments, and the drive for austerity in Congress, which has led to lower federal spending on health preparedness. In 2007 the two federal programs that help local officials plan for public health emergencies—Public Health Emergency Preparedness grants and the Hospital Preparedness Program—gave states and cities $1.3 billion, according to the National Association of County and City Health Officials. For the budget year that began on Oct. 1, that shrank to $800 million.
The problem can't be immediately fixed with a sudden injection of cash. "You may be able to buy equipment quickly, but you can't buy trained personnel quickly," says Jeff Levi, executive director of the Trust for America's Health, a nonpartisan advocacy organization focused on disease prevention. "Particularly when we're thinking about infectious disease outbreaks, we are as protected as the weakest link."
The Centers for Disease Control and Prevention has routinely updated treatment protocols as the Ebola outbreak spread in West Africa, but it relies on local officials to make sure hospitals and clinics have the training and ability to follow them. The CDC has acknowledged that some local health departments may not be ready to handle the threat. In Dallas, two health workers who cared for Thomas Eric Duncan at Texas Health Presbyterian Hospital have been hospitalized with Ebola. Duncan developed symptoms after arriving in Texas and died of Ebola after initially being sent home by emergency room doctors. On Oct. 14 the agency announced it would send response teams anywhere in the U.S. within hours of any Ebola diagnoses to help protect hospital staff. "I wish we had put a team like this on the ground the day the first patient was diagnosed," CDC Director Tom Frieden told reporters. "That might have prevented this infection."
The cuts have other consequences. "There are fewer people to deploy to take care of education, training, public service messages, and other information," says Albert Wu, a professor at Johns Hopkins Bloomberg School of Public Health. "Ebola is not the first and is not the last challenge to our public health system."
Even big cities with robust public health programs feel the strain. During a recent measles outbreak, Seattle had to enlist volunteers to deliver vaccines because its public health department didn't have enough staff. It's an approach officials say they'll have to repeat in the event of an Ebola outbreak. "We're constantly trying to build capacity, and then lay off and reduce capacity," says Jeffrey Duchin, chief of communicable disease control at the Seattle & King County public health department and chairman of the public health committee at the Infectious Diseases Society of America. "This is the way it's been throughout the country."
Public health spending made up 2.7 percent of the total $2.8 trillion spent on U.S. health care in 2012. Often it requires outbreaks such as Ebola, SARS, or swine flu to galvanize politicians into allocating money or paying attention to gaps in the system. In some cases, the right book can get a politician's attention: President Clinton appointed a special assistant for biodefense after reading The Cobra Event, a thriller about a bioterror attack.
The position was cut by President George W. Bush when he took office in 2001, then restored later that year after anthrax was mailed to congressional offices in the wake of the Sept. 11 terrorist attacks. That put biodefense "in the food chain, three rings outside the Oval Office," says Robert Kadlec, who served as a special assistant under Bush, overseeing the development of a national strategy for pandemic flu in 2006 and running multiagency planning reviews for flu pandemics in subsequent years.
In 2009 the Obama administration again eliminated the position and folded responsibility for pandemic preparedness into the expanded national security portfolio. Richard Danzig, a former secretary of the Navy who helped persuade Clinton to create the biodefense role, says the absence of routine planning leaves crisis managers at the National Security Council at a disadvantage when it comes to outbreak preparedness. "The everyday work," he says, "puts something in the cupboard."
Before it's here, it's on the Bloomberg Terminal.
LEARN MORE