Bloomberg/DMR Iowa Poll: Without Romney, the GOP Field Is Wide Open for 2016
There's an appeal to Ben Carson's life before politics, while the poll suggests a tough road for most of the GOP's biggest names.
By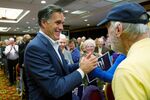 To understand why the Mitt-Romney-should-run-again camp won't take its marbles and go home, even after wife Ann says he's "done, done, done" with presidential campaigns, look to wide-open Iowa.
The Bloomberg Politics/Des Moines Register Iowa Poll of likely 2016 Republican caucusgoers shows that while the party's 2012 nominee leads the pack, other established hopefuls are struggling for a foothold and second place is going to a political newcomer, retired neurosurgeon Ben Carson.
Seventeen percent pick Romney, who says he isn't running, as their first choice for president; Carson, a conservative author best known for separating conjoined twins, is next at 11 percent. Rand Paul is just behind, with 10 percent.
Carson may be benefiting from his newness; 51 percent say they don't know him well enough to rate how they feel about him. 
The poll suggests a tough road in Iowa for other GOP names testing the waters nationally — with 7 percent favoring Texas Senator Ted Cruz and Governor Rick Perry, 6 percent New Jersey Governor Chris Christie, and just 2 percent Florida Senator Marco Rubio. Former Florida Governor Jeb Bush and Wisconsin Governor Scott Walker each drew 4 percent. Ohio Governor John Kasich and Louisiana Governor Bobby Jindal were the top choice for 1 percent, while Ohio Senator Rob Portman and Indiana Governor Mike Pence drew less than 1 percent each.
Rick Santorum, the former Pennsylvania senator and presidential candidate who won a razor-thin victory over Romney in the 2012 Iowa caucuses, is stuck at 3 percent in the new poll. Mike Huckabee, the Fox personality and former Arkansas governor and presidential candidate who won the Iowa caucuses in 2008, still draws 9 percent.
Paul Ryan, the Wisconsin congressman who was Romney's running mate two years ago and is chairman of the House Budget Committee, emerges as a beloved if not leading figure. While Ryan was the first choice for president for 8 percent of likely Republican Iowa caucusgoers, he had the highest favorable rating of any of the candidates — 75 percent — and was the top second-choice candidate, at 10 percent.

Sylvan Schneider, a retired businessman, says Romney is still best poised to address the country's challenges. "Mitt is a businessman and knows how to operate something," Schneider said. "He probably learned a lot from his last campaign." If neither Romney nor Bush, who is Schneider's second favorite, decides to run, Schneider said he's interested in Carson, who he's seen on television but remembers by race (he is African American) and background, not name.
"I think he makes sense," Schneider said of Carson. "He's down to earth and pragmatic about the way things operate. Obviously to be a surgeon you've got to be an intelligent person. And I think he comes out of the real world."
Ryan, Bush, and Portman were mentioned by Ann Romney in an interview with the Los Angeles Times published Monday in which she insisted her husband is "completely" finished with running for president. "Not only Mitt and I are done, but the kids are done," she said, adding for emphasis, "Done. Done. Done."
"It's wide open," said Gene Pfeifer, a retired teacher who identifies himself as very conservative and doesn't yet have a preference. He said while there's been a lot of early chatter, he's waiting for candidates to flesh out their views and records on the Constitution, abortion, taxes, guns and spending. "I'm waiting to have things shake out."
The rankings reflect a nominating contest that, for now, is being shaped more by worries over the federal deficit than any other topic, including terrorism, jobs, or taxes.
At the same time, the likely Republican caucusgoers are deeply divided on some of the issues that may carry implications for the general election. On immigration reform, for example, 42 percent side with opponents of offering a path to citizenship for undocumented residents, while 45 percent say they're open to it. On abortion, 46 percent said it should be illegal in all cases while 47 percent disagreed. As for whether to make gay marriage illegal, 39 percent said they'd oppose that, and 54 percent said marijuana possession should not necessarily be a crime.

Judy Devries, 68, of Council Bluffs, said while she likes "a lot" about Romney, she doesn't want him to run again. "If you've lost twice nationally, I'm not sure I want you to run again. I really want to win this time." She said Carson appeals the most to her, in large part because he hasn't spent his life in politics, a trait she sees as a strike against much of the rest of the pack.
The Oct. 1-7 poll of 425 likely Republican caucusgoers was conducted by Selzer & Company, in Des Moines, Iowa, and has a margin of error of plus or minus 4.8 percentage points. 
The survey pointed to an irony if Romney were to reconsider a run: The key motivator for likely caucusgoers, above even military action against the Islamic state terror group and cutting taxes, is repeal of the Affordable Care Act, the healthcare expansion known as Obamacare — which Obama says was modeled after Romney's health care expansion in Massachusetts.