Bloomberg/DMR Poll: Clinton's Wall Street Ties Worry Iowans
The former secretary of state is favored by Democratic caucusgoers amid a weak primary field.
By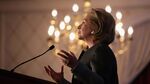 Hillary Clinton's Wall Street ties are a problem for Iowa Democratic caucusgoers; her willingness to use American military force is not.
Those are among the findings of a Bloomberg Politics/Des Moines Register Iowa Poll that shows Clinton remains the prohibitive frontrunner to win the 2016 Iowa presidential caucuses. Clinton is the top candidate for 53 percent of likely Democratic caucusgoers. That's roughly five times bigger than Massachusetts Senator Elizabeth Warren, who follows with 10 percent support as a first pick. Vice President Joe Biden is the top choice for 9 percent of likely caucusgoers, while 2004 Democratic nominee John Kerry draws 7 percent.

Still, the poll shows signs of political weakness for Clinton in Iowa. The Bloomberg Politics/Des Moines Register Iowa Poll of a cross-section of all likely 2016 voters released Saturday showed three Republicans within low single digits of her in hypothetical 2016 match-ups: former nominee Mitt Romney, Kentucky Senator Rand Paul and Wisconsin Representative Paul Ryan. Her soft spots among likely Democratic caucusgoers stem from a combination of her ties to Wall Street and her personality.
She "looked down on us" during her loss in the 2008 Democratic caucuses and repeated the mistake in a September visit to Senator Tom Harkin's annual steak fry, said Barbara Mathias, who picked Warren as her first choice and Clinton as her second. "She still thinks she's the star of the show," the 79-year-old Story City resident said. "Iowans know that we are the stars of the Iowa caucus."
A plurality of  caucusgoers, 44 percent, view Clinton's ties to Wall Street as a matter of concern, while 36 percent said they are an advantage. Clinton's closeness to Wall Street, which is home to big donors to her family's foundation and other projects, may be hurting her at a time when she and fellow Democrats are arguing that Republican policies promote "income inequality."
When asked which candidate "better represents your political beliefs," 52 percent chose Clinton while 26 percent picked Warren, who is using a populist appeal to build a base of support within the party.

The silver lining for Clinton: The rest of the Democratic field is weak. Clinton clobbers them even when the survey took into account who the caucusgoers would back if they had to make a second pick after their favorite candidate was knocked out. Under that scenario, Clinton's support soars to 68 percent, Biden and Kerry garner 28 percent, and Warren stands at 25 percent. The vast majority of likely caucusgoers say they don't know enough to form an opinion about Vermont Senator Bernie Sanders (58 percent), Maryland Governor Martin O'Malley (78 percent), former Virginia Senator Jim Webb (72 percent) and former Montana Governor Brian Schweitzer (79 percent). 
Clinton's strengths also are evident in the poll. She is viewed favorably by 88 percent of self-described liberals, 82 percent of women and 82 percent of union households. Among women, 72 percent name her as their first or second choice for the caucuses.
"By no means am I a feminist, but I think it's time for a woman to be president and I think Hillary's the one to do it," said Marcia McFall, 61, who said Clinton's ties to Wall Street and willingness to use military force are advantages.
Although Iowa Democrats who plan to attend the caucuses are sharply divided over the role of the U.S. military, Clinton doesn't appear to suffer much — if at all — for her advocacy of force as a tool of foreign policy. Forty-six percent say the U.S. should not rule out putting American boots on the ground to fight Islamic State, while 45 percent say President Barack Obama's policy of keeping American troops out of the war is the right one. Overall, 49 percent say the U.S. is overextended abroad, compared with 40 percent who say the nation must lead in world affairs even if it acts alone.
Still, 51 percent of likely caucusgoers say Clinton's willingness to use force in Libya, Syria and other global hotspots make her "better suited to be president," compared with 28 percent said she's too much of an interventionist.
Adrienne Greenwald, 34, who caucused for Clinton in 2008, said Kerry is her first choice and Clinton is her second pick — in part because she doesn't think Warren can muster the support to win. "She is slightly more hawkish than Kerry. I think she's more willing to intervene," Greenwald said of Clinton. "It does bother me."
A big majority, 61 percent, say the former New York senator's choices and policies would more closely resemble those of her husband, former President Bill Clinton, compared with just 13 percent who say they would expect her administration to reflect Obama's.

Even so, 35 percent say Obamacare is the most important issue to them, and 64 percent of all respondents say they want to keep it intact. Clinton led a failed effort to expand health insurance during her husband's presidency and advocated for Obama's version of the law behind closed doors. Twenty-six percent of likely caucusgoers say immigration reform is one of their top issues — with 77 percent supporting a path to citizenship — and 25 percent say a candidate's position on taxes ranks first for them. About four of five respondents say they favor raising taxes on the wealthy.
The poll was conducted by Selzer & Company, in Des Moines, Iowa, and is based on interviews with 426 likely Democratic caucusgoers and has a margin of error of plus or minus 4.8 percentage points.