Attack of the Cloned Campaign Ads
Feeling confident, Republicans and allied groups are recycling campaign attacks between red and blue states.
By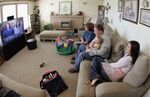 NHJournal scoops that American Crossroads will go on the air with a new ad against Democratic Senator Jeanne Shaheen, part of a $3 million buy to close out a race that Shaheen has so far commanded.
If the ad looks familiar, you may be an Arkansan. Four months ago, American Crossroads took to the airwaves in the Pryor-Cotton race with an ad that was identical in everything except vote percentage and the casting choice of the bee girl.
Electoral cartographers may find themselves perplexed by this. Arkansas is deep in the anti-Obama heartland, and its voters rejected the president by 20 points in 2008 and 24 points in 2012 – a landslide loss that helped wipe out Democratic control of the state legislature. New Hampshire voted for Obama in both of those races, by 10 and by 5 points. According to Gallup's state tracking, Obama's approval rating in New Hampshire, while underwater, is 10 points higher than it is in Arkansas.
So, why this ad? Crossroads thinks it's hooky, and breaks through the deluge of same-y spots in tight states. Also, Crossroads's own polling shows Obama to be less popular in New Hampshire than most public surveys suggest, with a net negative rating of 15 points. (In Arkansas, it's 3o points.)
There's more to it. Pundits, in their unearned wisdom, have decided that the 2014 election is generally themeless, or "about nothing," because some key Democrats have been running ahead of the president in their states. Republican campaigns have actually found clear themes – a relentless, mathy focus on the incumbent Democrats' vote percentage, and a new focus on whether these incumbents missed meetings that may have touched on the Islamic State. In North Carolina, Thom Tillis has run two spots about Kay Hagan's non-attendance at a hearing at which IS was mentioned three times.
In Colorado, the NRSC has gone up with an ad attacking Senator Mark Udall for missing a majority of "public armed services committee meetings." This is far less specific than the Tillis attack, and functionally less convincing, because Udall's on the Intelligence committee that typically meets in private. (The ad also repeats the claim that IS is an "immediate threat" to America, which analysts don't at all agree with, but which Udall apparently gaffed by suggesting.)
It's probably no accident that this ad went up after CNN's Ted Barrett reported on "private polling" conducted by Democrats that found the missed-meeting meme "very potent" in any race.