Apple Stores Will Sell a Smart Lock for Your Front Door
By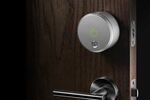 In June, Apple announced HomeKit, its platform for integrating smart gadgets through iOS. If all goes according to Apple's plan, your iPhone or iPad will become the hub for controlling your personal Internet of Things.
But for that to happen, the tech giant needs companies to develop home gadgets for its framework, much as it needed apps to build up the App Store. That's why it will be selling, in all its U.S. stores, a smart lock designed by Yves Béhar and called August.
August joins a handful of other products that can connect to HomeKit, including Philips's remote-controlled Hue light bulbs, Belkin's WeMo switch, and the iBaby monitor. With August, Apple is beginning to amass an ecosystem of products that can be triggered just by talking to your iPhone. Tell Siri you're turning in for the night, for instance, and, through HomeKit, the lights will be turned off, the baby monitor will go on, and the doors will lock.
Recap: August was launched last year, but the company didn't start shipping preorders until a couple of months ago. The product is an electronic lock that provides keyless entry to your guests by connecting to their smartphones (running either on iOS and Android) via Bluetooth. Through the August app, you can specify how long they can have access (one hour, five days, forever) and when (all week or only on, say, Mondays), and the lock will automatically open as they approach the door, provided they, too, have downloaded the app.
"There are a lot of services coming to your home now," says Béhar, who founded the startup August in San Francisco with Jason Johnson, a Silicon Valley entrepreneur. "For this delivery economy that we live in, control of the door is going to be critical." Between the babysitters, dog walkers, and house cleaners, many people are distributing multiple keys that are endlessly replicable. August is much more secure than a traditional key, since not only can you define the period when someone can access your home, but you can also track everyone's comings and goings through a logbook on the app. For people renting their homes via Airbnb or Craigslist, August is also a way to hand off keys smoothly to tenants.
Of course, it also facilitates the one-time visitor. "A lot of single guys and girls are like, 'This is perfect—a one-time key,'" Béhar says.


Johnson says that our apartment and house locks are woefully behind the times. Many offices have adopted key cards, and most new cars offer keyless entry. "We're rapidly moving into this keyless world, and naturally, we're going to want that same experience in our homes." Last September, the startup raised $8 million from venture capital firms and $2 million from angel investors.
Part of the beauty of the design is how easy it is to install using a single screwdriver. You remove the two screws holding the thumb turn (that knob you turn to lock and unlock a standard dead bolt), secure the August mounting plate over the hole with the same screws you took out, and clip the electronic lock onto the plate. August then functions like your old thumb turn, locking and unlocking when rotated. The process takes about 10 minutes.
The lock retails for $249—the same price as Google's Nest thermostat. Johnson thinks August represents an affordable nicety for Apple Store customers looking to explore the the much-ballyhooed Internet of Things. "There are these little devices that are beautiful and magical in what they do," he says. "As a retailer, Apple has recognized that."
Before it's here, it's on the Bloomberg Terminal.
LEARN MORE