business
Under Armour Holds a Game Show to Find Its Future
By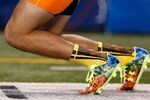 When Canada needed to pick a starting goalie for the 2014 Winter Olympics hockey final in February, the team relied, in part, on biometric readings produced by Omegawave, a small Finnish company. Carey Price's nervous system was sending particularly fast signals that morning, so he got the nod and promptly shut out the Swedes to secure the gold. The same tool helped coaches from the Barclays Premier League track the vitals of their players when global stars traveled home for national team games on Oct. 10-11.
Now, Omegawave is turning its focus from elite athletes to weekend warriors, and the company expects its route to the mass market runs through Baltimore. That's where Under Armour held its annual Future Show on Oct. 9-10, a competition designed to help the sports-apparel giant find tech talent and ideas.
The setting is a close facsimile of the reality TV show Shark Tank, complete with lights, cameras, and a giant clock making sure the business pitches are brief. The only significant difference is the number of push-ups—and the tendency of Under Armour Chief Executive Officer (and competition judge) Kevin Plank to get involved in the workouts. Before facing the judges, however, the competitors make their case in an employee trade show.

Surrounded by fit-looking Under Armour staffers clad in the company's hoodies and sheer, stretchy shirts, Omegawave CEO Gerard Bruen pulled up his vitals on the app. "That right there is what an overseas flight will do, and, quite frankly, a couple of beers," he said, pointing to a low point on the fever line of daily results from his own body.
The concept is relatively simple, even if it takes a bunch of hardware to pull it off. For three minutes every morning, an athlete–it could be New York Giants quarterback Eli Manning or a yoga dad training for his first marathon–straps on a chest band EKG and puts little wired suction cups on his head and hand. Three minutes later, the data flows through Omegawave's processors and produces readings in four areas: strength, speed, endurance, and coordination. From there, based on the measurements, Omegawave directs the user to a recommended workout.
At the Future Show, Under Armour's chief was most excited about the Omegawave feature that issues a warning and alerts a personal physician if something is awry. "I believe the whole proactive medicine thing is a huge opportunity," Plank told Bloomberg Businessweek. "When I get in my car, I immediately have all this data–fuel level, mileage, you name it. But when I go see my doctor, he pulls out a manila folder and asks how I feel."
Omegawave prevailed against a final field of nine products in the competition to become Under Armour's next big thing. The mass market version of the company's product is in beta testing, but Omegawave says it plans to sell the biometric gadgets for about $200, plus a subscription fee for the analysis. The winner emerged from a field of more than 1,000 applicants, ranging from tiny startups to established businesses with dozens of employees.
TeamSnap, based in Boulder, Colo., pitched a platform for organizing team sports used by some 7 million coaches, kids, and beer league softball buddies to figure out where and when to show up and what to bring. Kansas-based entrepreneur Dayveon Ross made a case for ShotTracker, an app, combined with a chip, tucked into a sleeve or sweatband that records the location of a basketball player's shoots and if the ball goes in. Krossover presented a service for editing, tagging, and analyzing game video.
Even the also-rans are likely to win a partnership with Under Armour. For Omegawave, the victory at Future Show brought a $50,000 prize, presented in a giant check worthy of a game show, and a seat at the negotiating table, where Under Armour may push for anything from a loose marketing partnership to an equity stake, or even full acquisition. (Magzip, which won in 2011 for design that allows a person to zip a coat one-handed, will be included in Under Armour outerwear hitting the market the market this fall.)
A deal with Omegawave is a way for Under Armour to expand MapMyFitness, a suite of apps that it bought late last year for $150 million. About 30 million people are now registered to track their runs, rides, and dog walking outings on the platform, but biometric feedback is largely limited to what's available on the Fitbit and Jawbone devices linked to the network. Now, Under Armour will have the hardware and equations to make the app feedback richer, providing the company can work out some kind of partnership with Omegawave.
MapMyFitness founder Robin Thurston was one of the judges who selected Omegawave. "These guys are serious experts in this category," he told Plank during deliberations. "And I do think people want to be told what to do when it comes to working out."
Before it's here, it's on the Bloomberg Terminal.
LEARN MORE