Ukraine Grannies Outprice Banks on Hryvnia Black Market
James M. Gomez, Kateryna Choursina and Daryna Krasnolutska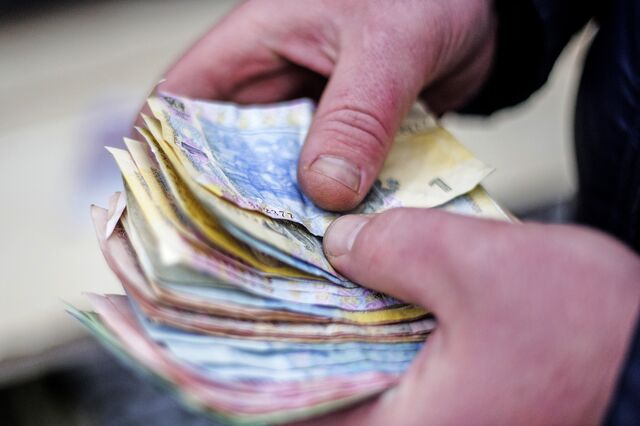 Outside Kids' World, a Soviet-built department store offering everything from Legos to leggings, a phalanx of "babusi," the Ukrainian word for grandmothers, met Kiev shoppers' foreign-exchange needs.
As other grey-haired blackmarketeers called out, "Taking dollars" and "Buying euros here," to passers-by on the busy sidewalk, 56-year-old Irina flipped 1,400 Ukrainian hryvnia from a wad of banknotes, handed them to a customer and pocketed a $100 bill in return. Though she just commited an illegal act, Irina showed no fear of arrest.
"Why should I worry? I'm not cheating them, they aren't cheating me," said Irina, who didn't give her last name. Her legitimate business, a card-table of windup cars, knock-off frisbees and balloons, was all but ignored. "Nobody buys these things. How else can I get money? What else can I do?"
The campaign by the Ukrainian government and central bank to halt the national currency's 60 percent slump before Oct. 26 elections has inadvertently created a cottage industry of illicit currency trading that the International Monetary Fund says it is watching closely. While authorities pressure banks and companies to hold the hryvnia at 12.95 to the dollar to slow the economy's freefall amid the deadly conflict with separatists in the east, they're powerless to stop street trades that offer premiums of as much as 2 hryvnia above the official rate.
No Belief
The hryvnia closed unchanged from yesterday at 12.9 per dollar in Kiev, data compiled by Bloomberg shows.
"Simply put, the guy on the street doesn't believe the cease-fire will hold, that the central bank has enough cash, or that the West will stump up more cash to ride to the rescue," Timothy Ash, a Standard Bank Group Ltd. economist in London, said by e-mail Oct. 9. "They are voting with their feet by pulling cash from banks and buying" on the street.
Central bank Governor Valeriya Gontareva, who was appointed in June by President Petro Poroshenko, told journalists in Kiev on Oct 6. that the institution is "responsible for price stability" and intends to stay true to that mission.
Foreign-currency reserves shrank to $16.39 billion in September from $20.4 billion at the end of last year. The official banking industry bought $276 million from the population and sold $541 million in September. That compares with purchases of $904 million in January, before the war started, and sales of $1.56 billion, according to the central bank.
'Stabilization' Policy
"The central bank has introduced limitations that nobody likes because the only purpose is to stabilize the situation on the currency market," Gontareva said. "Not because it is good or bad" policy, "but because it is the only way to stabilization."
The IMF has given "positive feedback" on foreign-exchange market restrictions to help slow "crisis tendencies, the Finance Ministry said in a statement today.
Investor confidence in the former Soviet republic has slumped, taking the hryvnia with it, after the 10-month-long crisis morphed from anti-government rallies in the nation's capital to a war in the eastern provinces of Donetsk and Luhansk.
Businesses Destroyed
The conflict, which has killed at least 3,660 people since mid-April, destroyed almost 40,000 businesses in Donetsk alone, the UN High Commissioner on Human Rights reported on Oct. 8.
In the past year, investors have turned from Ukrainian assets and foreign direct investments have declined as the conflict appears frozen. Neither the government nor pro-Russian separatists have gained much territory in the past month.
''We're monitoring the situation constantly," said Jerome Vacher, the IMF's Kiev-based representative, told reporters on Oct. 3 in Vienna. "The best thing for us is to see a properly functioning foreign-exchange market that would be deep and without a black market. The situation is difficult and the markets are not functioning as well as they could be."
The hryvnia fell to an all-time low of 14.175 per dollar on Sept. 22, prompting authorities to impose a rate of 12.95 on market. The currency has settled at that rate for the past two weeks.
"From a macro perspective, the central bank may be right to impose some harsh administrative curbs," said Ivan Tchakarov, the chief economist at Citigroup Inc. in Moscow. "If you don't have enough forex reserves, you simply don't have any other option but to impose capital controls. People may not like it, but it has to be done."
The going street rate of 14 to 15 hryvnia is also not justified by the country's economic state, he said.
Market 'Assault'
The economy has been shaken by the conflict in the two eastern regions that traditionally account for almost a quarter of industrial output. The central bank said the economy may contract as much as 10 percent this year. Ukraine will need more funding than the current $17 billion program, Christine Lagarde, the managing director of the International Monetary Fund, said Oct. 9.
As government troops move against armed pro-Russian militants, the central bank and the Interior Ministry declared their own "assault" against the shadow currency-exchange market, the ministry said on its website on Oct. 6. The ministry publishes at least one report a day on closing illegal operations across Ukraine and opening criminal charges.
"We have handed out 622 citations for violation of foreign-currency operation rules, and courts have ruled on 242 of them since the beginning of the year," the Interior Ministry said in response to e-mailed questions from Bloomberg. "The ministry, together with the central bank, is taking measures to stop violations."
'Politically Motivated'
Many Ukrainians need dollars and euros to pay back loans and mortgages denominated in those currencies, while authorities know that the weaker the hryvnia is, the stronger the public discontent, said Kateryna Markevych, an economic analyst at the Kiev-based Razumkov research institute.
"Harnessing the hryvnia's rate appears politically motivated," said Markevych. "The country's leadership is keeping the hryvnia at its present rate so that the population is not disappointed and has trust in the authorities."
As politicians debate, Ukrainians are taking their foreign-exchange needs into the streets, at work, among family and friends and on the Internet. Banks are restricted from selling more than $200 a day to clients in local branches, under new central bank rules.
Organized Market
"The black market is quite organized," said Alexander Valchyshen, the head of research at Investment Capital Ukraine. "And talk about a balanced hryvnia rate will be less and less trusted by the public when inflation soars, which is the risk now. I don't see the government dealing with it, no."
Some, like Oleksandr Yaroshevskyi, who are fortunate enough to have dollar incomes, have become quasi-private bankers, settling informal deals in offices, lunchrooms, coffee bars and kitchens to friends, family and acquaintances.
"When I need to sell dollars, I go to my colleagues who I know are interested in buying foreign currency as they are paid salaries in hryvnia," said Yaroshevskyi, an accountant in Kiev. "A couple of months ago they were not interested when I offered, and now I am quite popular. It's good for them, it's good for me."
Online Offers
Many Kiev retailers selling imported goods, from clothes to refrigerators, have begun to set their own rates for dollar-paying customers, close to 14.6 hryvnia per dollar, according to a local website that help shoppers compare prices.
Open websites such as finance.ua and minfin.com.ua offer lists of people seeking to sell or buy dollars and euros with contact numbers and exchange rates offered.
One such vendor, in a phone call placed to an unnamed bank near the parliament, promised a Bloomberg reporter a rate of 14.45 hryvnia if the deal was for at least $5,000.
"There's no need to worry, this is a banking institution," the person said, declining to give a name and address until the offer was accepted.
At the Kid's World, Irina and other blackmarketeers were kept busy by the lunchtime crowds passing along the gritty shopping district, where worn-down Soviet construction is clad with make-shift signs and garish facades and shops sell cheap clothing, shoes and toys.
Supplementing Income
Irina, who has four children, said her foreign exchange business was born from necessity, after her husband lost his job. The family otherwise lives on her oldest son's disability compensation of 900 hryvnia ($69) a month.
She supplements that by buying dollars from customers for 14 hryvnia a buck, and reselling the greenbacks to another source for 14.2, pocketing 20 kopeks as profit. That amounts to a 200 hryvnia profit for every $1,000 bought and sold.
On top of that, she and the other grandmothers lined up table to table on the sidewalk, take collections to send money for warm clothing and medicine as well as food, such as homemade jarred pickles, to government soldiers battling separatists.
"They think we are making millions," Irina said. "By buying and selling I can make a little margin for myself. Of course, it's difficult, it's tough."
Before it's here, it's on the Bloomberg Terminal.
LEARN MORE