Is Transparent a Real Hit? Or Just a Hit for Amazon?
By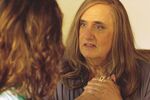 Amazon Studios has ordered a second season of its original comedy series Transparent, which has been widely adored by critics and is emerging as the first legitimate cultural hit since Amazon jumped into the original-programming business four years ago.
Last month Amazon made all 10 episodes of the first season available at once, and the company now calls the show its most popular series. "Since its debut, Transparent is the most binge-watched TV series on Prime Instant Video with nearly 80 percent of all viewers bingeing on two or more episodes of the series in the same day," Amazon noted this week. "This makes Transparent's binge-factor higher than any of the other Prime Instant Video binge leaders in the past."
Exactly how many viewers have been watching Amazon's most popular show? That's hard to say. Unlike shows carried on broadcast and cable-TV networks, viewership on Amazon isn't tracked by Nielsen. So far, the company has been less than transparent about the size of its audience.
A recent study of digital video viewing habits by Jefferies suggests that, no matter how popular Transparent has become, Amazon still has much work to do in order to catch up with rival Netflix, the reigning champion of on-demand, streaming video. In June, for example, the total number of videos watched on Netflix dwarfed the number of videos viewed on Amazon.

During the same stretch, customers spent much more time, on average, consuming entertainment on Netflix than on Amazon.

And, in general, viewers typically spend much more time per video on Netflix than they do on Amazon.

Serving up more episodes of an original series such as Transparent should help nudge Amazon viewers to stick around the website for longer periods of time. Even so, Amazon has a long way to go to corner the TV marketplace of the future. In the meantime, it will keep cranking out new series. The one featuring Ron Perlman standing naked in a fountain and speaking in tongues seems promising.
Before it's here, it's on the Bloomberg Terminal.
LEARN MORE