'South Dakota is a Purple State,' Says Former GOP Shoo-in
Mike Rounds, the one-time sure-thing to end the Democratic Party's control of a Senate seat, is now in a four-way fight.
By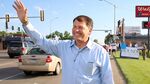 SIOUX FALLS, S.D. — Mike Rounds wasn't even supposed to be here today. The local Rotary Club had scheduled a Senate candidate forum, and initially, the two-term Republican governor had planned to be at the Rosebud Indian Reservation, hours away, for the commemoration of Native American Day. (For 25 years, South Dakota has observed this holiday when most of the nation remembers Christopher Columbus.)
But then Rosebud canceled the event — Rounds supported the Keystone XL pipeline, and the reservation did not. That freed up the Republican, on short notice, to join Democrat Rick Weiland, independent former Sen. Larry Pressler, and conservative independent Gordon Howie in a rapid-fire roundtable moderated by Jack Marsh, former executive editor of the state's major newspaper.
Before the forum — not a "debate" per se, as candidates were not allowed to address each other, and forbidden from negative attacks — Rounds strategist Dick Wadhams dismissed the polls that show Rounds in danger of losing. "But it's true that Pressler has surged," he admitted. The Sioux Falls forum would be the first to pit a flourishing Pressler against Rounds, who's been dogged by a complex scandal over EB-5 immigration visas, and against a Democrat who's being boosted by by $1 million from Larry Lessig's Mayday PAC.
Rounds responded by talking like, well, a Republican, leaving as little room as possible for Howie to jump to his right. He warned that the health care on reservations proved that Obamacare-style insurance was a disaster; he pledged to oppose Harry Reid for majority leader. And he dismissed the EB-5 story as a trumped-up smear. "If you want to talk about character assassination, I'm the guy who's been feeling it," he said.
After the debate, I asked Rounds why the race had become so close. "South Dakota hasn't sent three Republicans to Washington in 50 years," he said. "It's a purple state, not a red state. We're also a very inexpensive state to advertise in. A couple of million dollars makes a big difference."
Rounds compared his race to last cycle's contests in North Dakota and Montana, where Democrats invested millions. But I wondered whether Rounds had become complacent at all because, this year, Democrats had been riven by infighting over whether to back Weiland at all.
"Our challenge has been to raise the revenue in a state where literally everybody says, don't worry, it's a red state," he said. "From day one we have said our biggest fear was complacency. Up until this week, it was complacency."
In the debate and after, Rounds suggested that political funds like Mayday should disclose their donors. "It's important that everyone knows who's supporting who in the political process," he said. Mayday, like all his foes, seemed to over-rate his role in the EB-5 story. "They had accused us of putting the taxpayer at risk of losing hundreds of millions of dollars. That's baseless. They don't want to talk about how I'm the candidate who wants to repeal and replace Obamacare."
Pressler had generally tacked to Rounds's left throughout the forum. When it ended, I asked him about his 2008 and 2012 votes for Barack Obama, and whether he'd vote for Obama again if an election was held tomorrow. 
"It depends on the circumstances," he said. "That's a hypothetical question. I voted for Barack Obama, but in 2011 I co-hosted a fundraiser for Romney. I donated to him. Many Republicans this morning, in South Dakota, received a letter saying 'Don't vote for Larry Pressler because he voted for Obama.' Democrats received. That's how toxic our politics have become."
Would Romney have been a better president than Obama? "We really don't know," said Pressler. "People say that I'm a friend of Obama: I mean that in the sense that the president needs someone in the Senate that he can talk to. Barry Goldwater and John F. Kennedy could talk to each other."
Rounds had a much easier task than Pressler; he could basically endorse what the Republican Party endorsed, without any of the musing about a post-partisan Senate. I asked him whether he'd also support Mitch McConnell for majority leader. 
"Very honestly, I think Mitch McConnell will be the majority leader in the United States Senate," said Rounds. "But we don't make that decision until we go in, we sit down, we find out who is running for the position and so forth. What I do know is we're not going to vote for Harry Reid to be majority leader."
Pressler didn't say he'd vote for Reid, either. He just reiterated that neither party was any good at managing the upper house. "When the Republicans were in control of the Senate, Bob Dole would always fill up the amendment tree just like Harry Reid is doing now."