Senate Democrats Have Money, Republicans Have Map and History
Democrats hope their advantage in party committee fundraising will be enough to stave off a Republican majority on election day.
By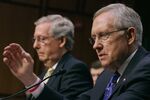 The Senate Democrats' political arm today touted a September haul of $16 million, a few days after Republicans said they took in $15.5 million for the month. Both are records for September, including years in which there is a presidential election.
The Democratic Senatorial Campaign Committee, which helped secure the party's control of Congress in the 2006 election, also noted that it raised about $127 million for the 2014 election through Sept. 30, compared with about $98 million for the National Republican Senatorial Committee.
A Democratic edge in Senate committee fundraising is a familiar tale. In all six election cycles since so-called soft money was banned after the 2002 election, the DSCC has outraised the NRSC in the first 21 months of the 24-month election period, Federal Election Commission data show. 
 It's an incomplete portrait, though.
The party committees account for a fraction of the fundraising and spending in Senate elections. Candidates have been raising millions on their own. Outside groups, including super-political action committees and nonprofit issue-advocacy groups, have also spent tens of millions more.
Excluding the DSCC and NRSC, outside general-election spending has generally favored Republicans in the most competitive Senate races, according to Center for Responsive Politics data. (Some spending isn't reported to the FEC, like the millions that the limited-government nonprofit group Americans for Prosperity spent last year criticizing the Affordable Care Act and vulnerable Democrats who voted for it.)
The bottom line is that both sides have more than enough money to win the majority on November 4.
While Democrats lead in party fundraising, Republicans have history and a favorable map. The White House's party usually loses ground in Congress in midterm elections, and Republicans could win a majority by holding all of their own seats while winning all six states that President Barack Obama lost by at least 13.7 percentage points in the 2012 election and where Democrats are the incumbent party in Senate elections this year.
The DSCC also outraised the NRSC at this point in the 2004 election cycle, when Republicans once again had a favorable map and made a net gain of four seats. The DSCC also outraised the NRSC in 2010, when Republicans made a net gain of six seats but failed to win a majority.