Oscar Pistorius Shouldn't Go to Jail, State Social Worker Says
Chris Spillane and Paul Burkhardt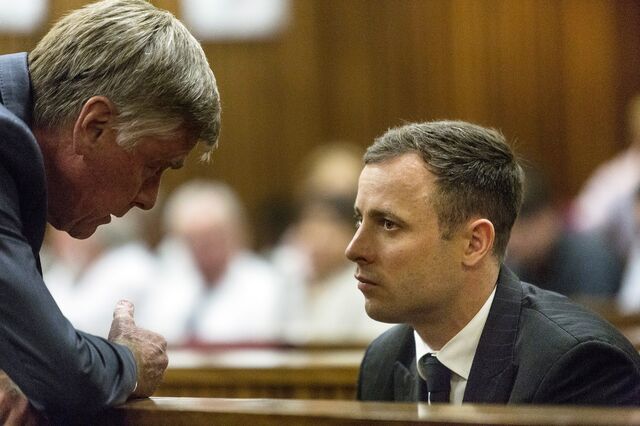 Oscar Pistorius should avoid jail time and be punished with community service for shooting his girlfriend Reeva Steenkamp, a state official said.
Joel Maringa, a social worker for South Africa's prison department, proposed 16 hours of community service a month and correctional supervision at the first day of Pistorius's sentencing at the High Court in Pretoria, South Africa's capital.
"The court can impose a maximum period of correctional supervision for three years," Marius du Toit, a Pretoria-based criminal-defense lawyer, said by phone today. "He's basically placed under the authority of a correctional officer who can basically visit his house or check on him whenever he or she wants."
Judge Thokozile Masipa, 66, will hand down the sentence after defense lawyer Barry Roux and prosecutor Gerrie Nel finish calling witnesses. Pistorius could be punished with a fine or as much as 15 years in jail for killing Steenkamp on Valentine's Day last year. Nel said correctional supervision would be "shockingly inappropriate."
Pistorius, 27, could be placed under house arrest and be made to attend programs determined by the court, according to Du Toit.
"I've seen guys cleaning buses or going to work in a hospital or working at a police station or something to that effect," he said.
Masipa cleared Pistorius of murder charges before convicting him of culpable homicide. Pistorius, who fired four hollow-point bullets through a toilet door in his house in the early hours of Feb. 14, last year, said he thought Steenkamp was an intruder.
Before it's here, it's on the Bloomberg Terminal.
LEARN MORE