N. Korea Reports Kim Jong Un's First Appearance in Six Weeks
Sam Kim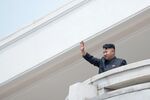 North Korean leader Kim Jong Un made his first public appearance in six weeks, walking with a cane during a visit to a new residential block as he ended a period of seclusion that prompted speculation about his grip on power.
Kim commended workers who built the Wisong Scientists Residential District and was accompanied by senior officials including Vice Marshal Hwang Pyong So and Workers' Party secretary Choe Ryong Hae, the official Korean Central News Agency reported today. Photographs on the website of the Rodong Sinmun, a newspaper published by the ruling party, showed Kim talking and laughing while holding a cane. Neither report gave the date of his visit.
"The fact that he's back while still recovering shows how much he wants to quash rumors and speculation about who's in power," Kim Yong Hyun, a professor of North Korea studies at Seoul's Dongguk University, said by phone. "North Korea will now try to portray him as a leader who cares so much about people that he's back even with the support of a cane."
Kim is the subject of intense scrutiny by the outside world as he exercises dynastic control over the North's 1.2-million troops and nuclear arms program. Believed to be around 30, he inherited rule when his father Kim Jong Il died of a heart attack in December 2011, and has no known child old enough to succeed him should he become incapacitated.
Prolonged Absence
His absence from public view, the longest since he became the country's "supreme commander," fanned debate about his being sidelined by gout or diabetes or overthrown in a coup. South Korea's Chosun Ilbo newspaper reported Sept. 30 that he was hospitalized after surgery on both ankles to address an injury sustained during field supervisions in June.
Kim, who regularly appears in state media overseeing everything from missile launches to grain harvests, was last seen on Sept. 3 when he attended a concert with his wife, Ri Sol Ju. North Korea's state television said Sept. 25 that he was experiencing "discomfort" in his body.
Footage showed him walking with a limp in July, and media speculation about his health intensified when he missed a session of parliament on Sept. 25. He also skipped an annual visit to a family mausoleum on Oct. 10 to pay tribute to his father and his grandfather Kim Il Sung, the country's founder.
During his absence, North Korea sent a high-level delegation led by Hwang to the South for talks that ended in a pledge to improve ties. In the week after the Oct. 4 visit, North and South Korea exchanged fire near their disputed sea border and fired machine gun shots across the land border. No casualties were reported from either incident.
'No Problem'
South Korea's Unification Minister Ryoo Kihl Jae said on KBS Television on Oct. 5 that Kim Yang Gon, the North's top policy maker on the South, told him during the high-level visit there was "no problem at all" with the leader's health.
Kim Jong Il disappeared for more than two months in 2008 after suffering what South Korea and the U.S. believed to be a stroke, before he re-appeared looking thinner and older.
The young Kim consolidated his grip on power by purging senior officials, including the removal in July 2012 of Chief of the General Staff Ri Yong Ho. In December, he removed his uncle and de facto deputy, Jang Song Thaek, on charges of factionalism and graft, and then had him executed.