No Easy Days for South Africa's Nene Seeking ANC Support
Rene Vollgraaff and Mike Cohen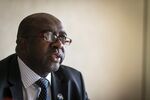 After contending with strikes, a shrinking economy, sliding currency, power outages, a credit-rating downgrade, and even a broken toe, the real test now comes for South African Finance Minister Nhlanhla Nene.
Nene presents his first budget update to parliament next week less than five months into the job. During that tenure, his message has been consistent: to cap spending and trim the deficit. To do so, he must withstand calls for higher spending and less austerity from labor unions allied to President Jacob Zuma and the governing African National Congress.
"There has never been an easy day," Nene, 55, still hobbling on crutches, said in an interview at Bloomberg's Johannesburg office during the South African winter. "The environment is challenging. It has never stopped."
While the strikes have ended, the economy has returned to growth and Nene's injury has healed, the job is unlikely to get much easier anytime soon as he tries to establish the political authority to rein in the nation's finances.
Unlike former finance chiefs Pravin Gordhan and Trevor Manuel, high-ranking ANC members imprisoned during apartheid rule, Nene has never featured in the party's hierarchy, nor does he have a stint as a political prisoner on his resume.
"Both were seen as strong independent people who really had clout," Razia Khan, head of Africa macroeconomic research at Standard Chartered Plc in London, said by telephone on Sept. 17. "The new finance minister will have to prove himself amid some very difficult economic conditions."
Slowing Economy
Nene is scheduled to present revised growth and deficit forecasts on Oct. 22 and spell out what will be done to help state power utility Eskom Holdings SOC Ltd. fill a 225 billion- rand ($20 billion) funding shortfall.
The economy will probably expand 1.8 percent this year, down from a 2.7 percent estimate in the February budget, Nene said in the Aug. 25 interview.
The government is targeting 5 percent growth by 2019, though rising interest rates to contain inflation, spurred by a weaker rand, will make it difficult to reach that goal. The currency has slid 7.4 percent since Nene became finance minister on May 25. It's down 24 percent since the start of last year.
The rand gained 0.7 percent and traded at 11.0454 per dollar as of 4:45 p.m. in Johannesburg.
Nene meanwhile is facing a tax-revenue hole as the growth targets are missed, while spending pressures are mounting to fund energy projects and a pay deal with the country's 1.2 million state workers.
Staying Strong
"The key question for any finance minister in South Africa is whether he can stand up to populist pressure and hold the line on fiscal policy," said Tim Harris, a former lawmaker for the opposition Democratic Alliance who sat on the parliament's finance committee. "He will need to show he is strong enough to contain increases in spending and national debt."
Nene was born in the village of Ntunjambili in the eastern KwaZulu-Natal province, about 80 kilometers (50 miles) from the village where Zuma was raised. He has been married for 29 years and has three children, aged 29, 23 and 17.
The son of a nurse and a school principal, he became involved in politics as a student in 1979 and was expelled from high school for his activism against apartheid. He completed his studies at another school and went on to obtain a marketing diploma and a Bachelor of Commerce honors degree in economics in South Africa, followed by a certificate in macro- and micro-economics from the University of London.
'Easy-Going'
"We come from very different backgrounds," Gordhan, 65, who was appointed local government minister by Zuma, said in Cape Town on Sept. 16. "He brings an interesting and different perspective. He is fairly easy-going."
That's not to say Nene has no history of dealing with conflict. He worked for 15 years as an administrative manager for the Metropolitan Life Insurance Co. and in 1990 helped organize the first-ever strike in the financial industry. After three months, employers agreed to improve working conditions.
He can count on years of experience in government, serving as deputy finance minister under Manuel for six months and holding the same post under Gordhan for five years. In 2008, a clip of Nene's chair collapsing during an interview on national television spread around the world.
World Cup
His duties included helping organize the 2010 soccer World Cup in South Africa and serving as chairman of the Public Investment Corp., the continent's biggest money manager.
Jabu Moleketi, South Africa's deputy finance minister from 2004 to 2008, said Nene paid scrupulous attention to detail when he chaired parliament's finance committee.
"You may mistake him as somebody who is soft, but he is tough," Moleketi said in Johannesburg on Sept. 15. "He knows exactly where to draw the line and he draws it very quickly and makes it very clear."
Nene's political background compared with his predecessors isn't an issue, said Jeff Radebe, the ANC's head of policy.
Manuel, who retired from the government in May, served on the ANC's national executive committee throughout his tenure between 1996 and 2009. Gordhan was elected to the 86-member body in 2012. Nene has never served on the committee.
Cabinet Support
"He has the total backing of the cabinet," Radebe, who is also a minister in the Presidency, said in a Sept. 4 interview in Cape Town. "The question is whether he is capable of performing his duties and the answer is an unqualified 'yes.' Nothing has changed in terms of our fundamentals. We are maintaining financial stability."
Standard & Poor's cited concerns that the government wouldn't meet its growth- and deficit-reduction targets when it cut South Africa's rating one level to BBB- in June. The budget envisions the shortfall shrinking to 2.8 percent in the year through March 2017, from 4 percent this year.
There is no clear evidence as to how Nene will balance keeping the country's finances on a sound footing with the need for political expediency, said Allister Sparks, an author of five books on South African politics.
"He is about to be tested," Sparks said from Johannesburg on Sept. 29. "And it's going to be a severe test."
Before it's here, it's on the Bloomberg Terminal.
LEARN MORE