Morgan Stanley's Pitch to Young Talent: We're Not Like Those Other Banks
by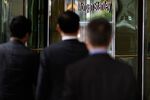 About two dozen of the University of Miami's brightest students sat in a meeting room at Morgan Stanley's Manhattan headquarters last week, nodding and scribbling in leather binders as managers told them how to break into the firm's wealth management division. As executives and associates spoke, the talk came to rest on a sobering theme: Don't screw up.
The students, all of whom had an interest in pursuing a finance career, responded with laughter to less hard-edged tips—don't write "LOL" in your e-mails, don't arrive at an interview not knowing who the chief executive is, don't post drunk pictures on social media—but when a managing director warned against cheating in a post-financial-crisis world, the room was silent.
"There are a lot of people who could have been up here with us talking today, but they made bad decisions, and they're out of the game," said Adam Carlin, managing director of wealth management at Morgan Stanley and a University of Miami School of Business alumnus who sponsored the trip along with Richard Bermont, senior vice president of wealth management. "Really think about the decisions you make," Carlin said, "and what they say about you."
Carlin's comments echoed what many Wall Street executives have been trying to say since the financial crisis—they're committed to stamping out corruption. Fraud, complaints about nonexistent work-life balance, and accounts of greed have smeared Wall Street's image.
Even as banks expand hiring, the finance industry may be losing some of its luster for overachieving college and graduate students. At Harvard Business School, the share of MBA graduates heading into finance dropped to 5 percent in 2013 from 12 percent in 2006. Over the same period at the Wharton School, that number dropped to 13.3 percent from 26 percent, according to Bloomberg News.
Some young professionals who do pursue finance are less drawn to banks, which face competition for young talent with comparatively robust private equity firms. Pressure to attract the nation's educated elite has spurred banks to offer its entry-level employees higher pay and more schedules that allow some chance at a life outside of work.
In such a climate, the event was perhaps as much of an audition for Morgan Stanley—which hasn't been immune to charges of employees engaging in unscrupulous behavior—as it was for the students. Morgan Stanley is different from the other players, Carlin said. There's no "good old boy network," no cheating your way to the top.
"At a firm like Morgan Stanley, you can come in and start from the bottom and be literally at the top of the firm if you work hard, you're ethical, and you stick to what you're supposed to do," Carlin said. "That's not the case everywhere. Many of our competitors, there's a political component to it."
If you don't feel a deep respect for ethics, clients, and the firm itself, said Carlin, don't bother applying. "I really respect the firm that I work for, and if you don't, I want you to work for a firm where you'll feel that way, because otherwise you're not going to have it. You're not going to have that passion."
Before it's here, it's on the Bloomberg Terminal.
LEARN MORE