Irish to Exit Austerity as Attention Turns to Company Tax
Dara Doyle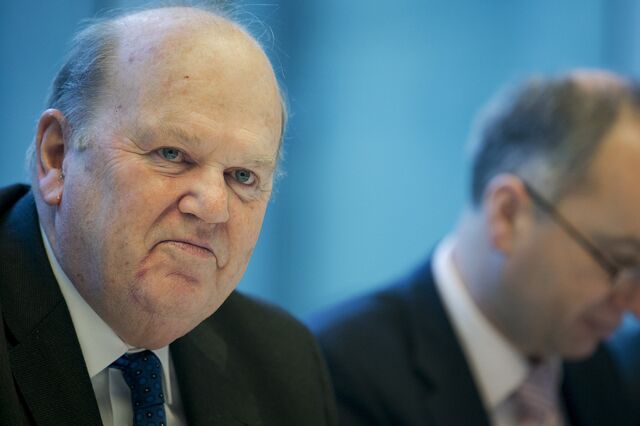 Ireland is moving into the post-austerity era as the economy recovers, and companies using the country to avoid tax may be the government's next target.
Finance Minister Michael Noonan will unveil next year's budget in Dublin today, and mark the first time since 2008 there won't be an increase in taxes or cut to spending. As he tries to bolster popular support, he may also look at tightening a corporate tax regime that's come under international scrutiny, while at the same time lowering the top rate of income tax.
After the worst real estate bust in western Europe, two successive governments implemented austerity measures amounting to about a fifth of gross domestic product. With the economy growing at the fastest pace in the euro region and an election in the next 18 months, Noonan is ready to ease off.
"My sense is the government will start the process of tax relief and signal more is on the way," said Eoin Fahy, an economist at Kleinwort Benson Investors in the Irish capital. "Consumers could do with a break."
Last week, anti-austerity candidates won two parliamentary seats as the economy expands about 5 percent this year and Prime Minister Enda Kenny pledges to cut taxes. The special elections came after two lawmakers stepped down.
Three days ago, about 50,000 people marched through Dublin to protest the introduction of water charges.
Tackling Deficit
In the five years through 2013, the government pushed through about 30 billion euros ($38 billion) of measures to narrow the deficit, which swelled to 13 percent of GDP in 2011. They included the introduction of a property tax, water charges and an increase in income taxes.
With investor confidence restored, Irish borrowing costs declined. The yield on 10-year government bonds was 1.71 percent today, compared with a peak of 14.2 percent in July 2011.
Accelerating economic growth and falling borrowing costs give Noonan, 71, more room to maneuver.
If he left the budget untouched, the deficit would narrow to 2.4 percent of GDP next year from 3.7 percent this year as the economy strengthens. Annual GDP growth was 7.7 percent in the second quarter, the fastest in seven years. He may aim for a deficit of about 2.7 percent, still below the government's 3 percent target, Dublin securities firm Davy said.
That would "essentially split the difference between calls for prudence and political considerations ahead of the next election," said Conall Mac Coille, an economist at Davy.
Easing Off
Some have criticized the decision to ease off on austerity, pointing out that debt is still about 120 percent of GDP, compared with about 25 percent in 2007. The government had been slated to make another 2 billion euros of adjustments next year.
'The ideal position would be to stick to the program, do the further consolidation, because my principal concern is the level of interest payments going out,'' Alan Dukes, a former Irish finance minister, said in an interview with Bloomberg Television today. "It must be a priority to get that down."
As he battles to win support at home, Noonan may also seek to calm international criticism of Ireland's taxation. He's weighing ending a tax device used by multinational companies including Google Inc., known as the "Double Irish," according to a person with knowledge of the matter.
The mechanism allows the Internet search company to route European sales through a subsidiary in Ireland. The unit in turn pays billions in royalties to another Irish company for the rights to Google's various patents.
Irish Taxes
Because the second unit is managed in Bermuda, it isn't "tax resident" in Ireland and thus doesn't owe Irish taxes. This technique results in the majority of Google's worldwide profits avoiding income tax anywhere in the world.
A Google spokesman in Ireland declined to comment on possible tax changes on Oct. 10.
Already investigating Apple Inc.'s tax arrangements in Ireland, the European Commission said last week it had asked for information from the government on tax residency rules.
"From a messaging point of view, the speech gives an opportunity to set out very clearly Ireland's views on this issue," said Dermot O'Leary, an economist at Goodbody Stockbrokers. They can respond " to some of the more damaging accusations that have been circling over recent months."
Before it's here, it's on the Bloomberg Terminal.
LEARN MORE