Ibovespa Leads Global Advances With Real as Neves Ahead in Poll
Ney Hayashi and Filipe Pacheco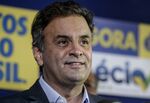 The Ibovespa rose the most among the world's equity benchmarks and the real rallied after a poll showed opposition candidate Aecio Neves beating President Dilma Rousseff in Brazil's runoff election.
State-run Petroleo Brasileiro SA contributed the most to the gauge's advance on speculation a new government will reduce intervention including price controls that limit profitability. Iron-ore producer Vale SA climbed after trade data from China showed the country's imports unexpectedly increased last month.
The Ibovespa jumped 4.8 percent to 57,956.53 at the close of trade in Sao Paulo as all 10 industry groups on the MSCI Brazil Index advanced. The real strengthened 1.5 percent to 2.3943 per dollar in the best performance among 31 major currencies tracked by Bloomberg. A Sensus poll published on the website of IstoE magazine showed Neves with 52.4 percent of voter support, compared with 36.7 percent for Rousseff.
"Aecio is gaining momentum," Otavio Vieira, a partner at hedge fund Fides Asset Management, said by phone from Rio de Janeiro. "Shares are starting to price in an increased chance of the opposition winning the election. If that really happens, I see the Ibovespa going to 65,000 or 70,000."
Petrobras, as Petroleo Brasileiro is also known, increased 10.5 percent to 22.13 reais, the highest level since April 2013 on a closing basis. Vale climbed 4.9 percent to 24.10 reais in its biggest increase since Oct. 6.
Swings between gains and losses for Brazilian equity and currency markets have heightened as the election runoff approaches, with the Ibovespa's 90-day volatility at the highest level since October 2013. One-month implied volatility on options for the real, reflecting projected shifts in the currency, is the greatest among developing nations.
ETF Redemptions
Last week, investors pulled $420.9 million from U.S. exchange-traded funds that buy Brazilian equities, according to data compiled by Bloomberg. That compares with $32.1 million of redemptions the previous week, the data show.
Trading volume of equities in Sao Paulo was 10.86 billion reais on Oct. 10, according to data compiled by Bloomberg. That compares with a daily average of 6.91 billion reais this year.
The backing of Marina Silva, who came in third in the first round of Brazil's presidential election, also helped to push markets higher, according to Vieira. Silva said yesterday she will endorse Neves for the Oct. 26 runoff.
Neves and Silva both attacked Rousseff in the run-up to the first round, saying her policies contributed to above-target inflation and a recession in the first half of this year. Rousseff countered that their moves to slow consumer price increases would put at risk rising salaries.
Sensus Poll
The Sensus survey of 2,000 people Oct. 7-10 had a margin of error of plus or minus 2.2 percentage points. Ricardo Guedes, director of the opinion research firm, also conducts polls for the Neves campaign.
The real posted on Oct. 10 a weekly rally of 1.2 percent, its first five-day gain since August, on speculation Rousseff will be voted out of office. In September, the currency fell 8.6 percent, the most in emerging markets, as polls showed increased support for the incumbent before the Oct. 5 first-round vote.
"The political debate tends to remain the main driver for currency trading," Deives Ribeiro, a foreign-exchange manager at Fair Corretora de Cambio e Valores in Sao Paulo, said by phone. "Investors liked to see Neves ahead of Rousseff."
To support the currency, Brazil sold $197.3 million of foreign-exchange swaps today as part of an intervention program and rolled over contracts worth $393.1 million.
Intervention Program
Brazil's central bank sees no limit or risk to its currency swaps program as reserves of $375 billion give credibility to the instrument that reached $99 billion last week, according to a government official who asked not to be identified.
The central bank will keep in place its daily currency intervention program through the end of the year, and any decision on exchange rate policy for 2015 will be made close to that date, the official said Oct. 10. The central bank sees no need to sell dollars from international reserves because there is adequate liquidity in the spot market, the official said.
Before it's here, it's on the Bloomberg Terminal.
LEARN MORE