Harry Reid Held Hostage: Negotiation Could Be Key for Senate Majority
By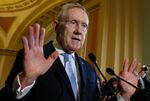 This story contains corrected material, inserted on Oct. 14
Harry Reid may have to sharpen his hostage-negotiation skills if he hopes to hold onto his job as Senate Majority Leader.
South Dakota Senate hopeful Larry Pressler, who is running as an Independent, said in an interview on Bloomberg TV's "With All Due Respect" today that he's not sure he would caucus with Reid's Democrats if he wins. 
Pressler, who is battling against Republican Governor Mike Rounds and Democrat Rick Weiland, said he would base his decision on whether he can get a deal for "certain roll-call votes" and that he would "not necessarily" end up with Democrats if elected.  That means the former Republican senator is in the same between-the-parties position as Kansas independent Greg Orman, who has said he'll caucus with whichever party is in charge.
Add in Republicans' desire to seek party-switchers in a closely contested Senate, and Reid could end up with a new test of his legendary ability to gain power through the art of negotiation.
"He's seen this play before, and I'm sure he'll figure out how to make it work," said Jim Manley, a former Reid aide who is now a senior director at the Washington lobbying and public relations firm QGA.
The Nevada senator was the pivotal player in persuading the late Vermont Independent Jim Jeffords to tip the balance of the Senate in Democrats' favor in 2001. That time, Reid surrendered the chairmanship of the Environment and Public Works Committee so that Jeffords could have a gavel. 
"He doesn't have those kinds of tools available in his belt," Manley said. But he may not need to dangle a chairmanship. Pressler suggested today that a guarantee of floor votes for his top priorities could sway his allegiance.
More recently, Maine Independent Angus King chose to caucus with Democrats in the current Congress. That didn't cost Reid much, if anything. King asked for a seat on the tax-writing Finance Committee. But with Democrats holding a safe majority, Reid didn't have to give it up.
Instead, King, who endorsed Maine Republican Susan Collins in her shoo-in re-election effort this year, won seats on the Armed Services, Intelligence and Budget panels.
It's too early to tell what kind of horse-trading might go on after the November election, particularly because run-off election rules in Louisiana and Georgia could leave the balance of power in the Senate an open question until December or January.
Some Democratic operatives say they can't envision Orman siding with Republicans after the GOP has dumped millions of dollars into pummeling him to save Roberts. Republican Party Chairman Reince Priebus has added that  it's "an impossibility" that Orman would end up with the GOP because he's been a major Democratic donor in the past. Among the Democratic candidates Orman has given to are President Barack Obama and himself—during a short-lived Senate campaign in the 2008 election cycle.
The same may go for Pressler. The Democratic Senatorial Campaign Committee has vowed to saturate South Dakota's airwaves with ads attacking Rounds.
"I find it hard to believe that if they are in these situations that Republicans are going to greet them with open arms," Democratic strategist Chris Kofinis, a former aide to West Virginia Democratic Senator Joe Manchin said. "What's going to change?"
Correction: An earlier version of this story gave the incorrect first name for Rick Weiland in the third paragraph.