Germany's New Foreign Policy: Same Reluctance to Fight
Leon Mangasarian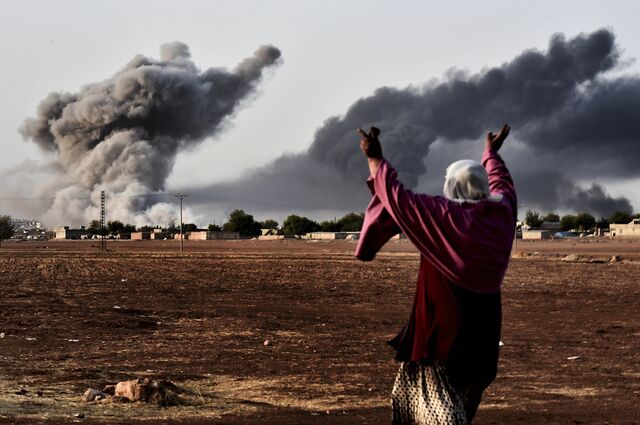 Belgium, the Netherlands and Denmark, whose combined populations are less than half that of their German neighbor, have sent warplanes to strike Islamic State. Germany is sitting this conflict out.
While Chancellor Angela Merkel's government is supplying weapons to Kurdish forces fighting the militants in Iraq, it has stopped short of joining the U.S.-led coalition pounding Islamic State targets from the air. It's a decision that belies German ambitions to step up international engagement to match the country's economic clout as Europe's export powerhouse, and one it may have to justify at a meeting of defense chiefs in Washington today.
"Germany has a deep aversion to using force," Mats Berdal, a professor in the Department of War Studies at King's College in London, said by phone. "Yet it's important to get a broad coalition for symbolic effect. Chancellor Merkel needs to think hard about this because the consequences of what can be called a death cult could be very severe."
Germany's ultra-cautious approach to defense matters is deeply rooted in a militaristic past that caused two world wars. A rush of rhetoric promising a bolder Germany at the start of Merkel's third term has ebbed as beheadings in Syria and a spiralling death toll in Ukraine pointed up the risks of greater involvement and escalated the global mood of crisis.
It's a dilemma that will be on show today as U.S. General Martin Dempsey, chairman of the Joint Chiefs of Staff, hosts more than 20 defense chiefs from coalition countries at Joint Base Andrews outside of Washington to discuss the campaign against Islamic State. President Barack Obama is scheduled to stop in on the session, which will include a representative from Germany.
'Morally Clean'
"Germany still has a very hard time in thinking of geostrategic German interests and European interests," Jan Techau, director of the Carnegie Endowment in Brussels and a former German Defense Ministry analyst, said by phone.
"The debate on sending German troops anywhere is about how can we stay morally clean and not about saving Syrians," Techau said. "I don't know if it puts Germany to shame but it shows different security thinking."
The post-1945 reluctance to deploy force risks alienating allies at a time when the international community is looking to Germany to step up and play a greater role in matters from rising instability along the European Union's southern Mediterranean border to Russia and the Ukraine crisis, as well as steering Europe out of its economic and jobs torpor.
Libya, Mali
The crucible of those greater expectations is Iraq and Syria, where the U.S. is leading a coalition attacking Islamic State. France, the U.K., Australia and Canada, Belgium, the Netherlands and Denmark have all committed to send aircraft to join forces from Saudi Arabia, the United Arab Emirates, Jordan, Bahrain and Qatar.
Germany sat out the 2011 Libya war and limited its assistance to France's 2013 Mali intervention to logistics and aid. Then-Chancellor Gerhard Schroeder was a leading opponent of the U.S.-led Iraq War in 2003, though he did send German troops to serve in Afghanistan and warplanes to conduct patrols in the 1999 Kosovo War.
Germany under Merkel has risen in prominence, particularly during the crisis in the euro area that began in Greece in late 2009. Through a combination of its economic might and the weakness of fellow euro-area nations, Germany became Europe's dominant policy maker, with expectations placed upon it in other fields that the Merkel government says it's still coming to terms with.
"German diplomacy is facing demands as rarely before," Foreign Minister Frank-Walter Steinmeier said in a Tagesspiegel am Sonntag newspaper interview on Oct. 12.
German 'Shirker'
Earlier this year, German President Joachim Gauck said his country needed to shake off its postwar reluctance and play a greater global role.
"Some -- both at home and abroad -- have a quick and simplistic answer: they regard Germany as the shirker in the international community," Gauck said in a January 31 speech at the Munich Security Conference. "Not all critics of German policy are simply unfair."
Germany must be ready "to do more to guarantee the security that others have provided it with for decades," Gauck said. "It should today be natural for Germany and its allies to not simply refuse to help others when human rights violations multiply and result in genocide, war crimes, ethnic cleansing or crimes against humanity."
Ukraine Role
Germany went on to play a frontline role in the diplomacy over Ukraine, where Merkel's knowledge of Russia has helped guide Europe's sanctions response while keeping channels of communication open to President Vladimir Putin. It supplied weapons to Kurdish Peshmerga forces even before the U.K. agreed to similar shipments, overturning a postwar taboo at sending arms to conflict zones to do so.
Yet joining the battle against Islamic State is a step too far, even in the face of domestic unrest between Kurds and Islamic extremists over the fate of Kobani. And in the meantime the weapon supplies have been plagued with problems as Germany's decrepit and underfunded armed forces struggle to provide airlift capability.
German Defense Minister Ursula von der Leyen has come under criticism following a government report showing that German hardware -- including portions of its fleet of Eurofighter jets, Transall transport planes and military helicopters -- can't be deployed as they await spare parts.
NATO Obligations
Germany spends about 1.3 percent of gross domestic product on military spending, persistently short of the 2 percent level pledged informally by North Atlantic Treaty Organization allies.
Remarks by von der Leyen that Germany's global obligations must be backed up by more spending were slapped down by Merkel's chief spokesman, Steffen Seibert, who said no extra money was available.
Missions in Afghanistan and Kosovo notwithstanding, Germany remains trapped in its old postwar fear of resorting to the armed forces, said Techau. Added to this is Merkel's character as "very, very cautious and risk averse in both foreign and domestic policy," he said.
Still, as Islamic State's footprint expands and atrocities mount, the pressure may become too great for Germany to ignore the moral repercussions and stay on the sidelines.
"If Islamic state proves to be a vital threat to the euro-Atlantic alliance, I can hardly imagine that Germany would opt out," Karl-Heinz Kamp, academic director at the German government's Federal Academy for Security Policy in Berlin, said by phone. Merkel's government would "contribute with the means it has available," he said. "This would be putting beef on the bones of Germany's new foreign policy."
Before it's here, it's on the Bloomberg Terminal.
LEARN MORE