European Stocks Are Little Changed After Weekly Slump
Sofia Horta e Costa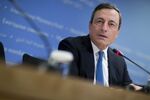 European stocks were little changed, after concern that the global economic recovery is faltering sent the Stoxx Europe 600 Index for its biggest weekly decline since May 2012.
The Stoxx 600 slipped less than 0.1 percent to 321.56 at the close of trading in London. The benchmark gauge rose as much as 0.6 percent earlier and lost as much as 0.8 percent. The decline followed a 4.1 percent slump last week as the International Monetary Fund cut its global-growth forecasts and German industrial production shrank the most since 2009. Federal Reserve Vice Chairman Stanley Fischer said over the weekend that a global slowdown may undermine the U.S. recovery and prompt policy makers to delay raising interest rates.
"Investors had seen the global-growth scare as an excuse to sell the rally," said James Butterfill, head of global equity strategy at Coutts & Co. in London. "When you mix in disappointment around Draghi's ability to spur Europe's economy and the Fed saying that external factors could affect the growth picture for the U.S., it looked like a good reason to sell. We believe this has all been a little bit overdone at this juncture. We see U.S. growth as becoming much more sustainable over the long term."
The Stoxx 600 has slid 7.8 percent from a nearly six-year high on Sept. 4 as concern grew that the rally was overdone. Global equities lost $4.5 trillion in value since reaching a record last month.
Growing Skepticism
As investors become more skeptical, pulling a record $1 billion from an exchange-traded fund tracking European equities, the latest European Central Bank strategy is also failing to convince economists. More than 60 percent of respondents in a Bloomberg monthly survey say the plan to steer the ECB's balance sheet toward early-2012 levels is set to fall short, and a growing number predict President Mario Draghi will resort to large-scale government-bond buying.
Some officials are already opposing the plan to buy asset-backed securities and covered bonds. IMF meetings in Washington this weekend showed differing opinions over how much more stimulus the euro-area economy needs from the European Central Bank. While Draghi repeated he's ready to expand the central bank's balance sheet by as much as 1 trillion euros ($1.3 trillion), Bundesbank head Jens Weidmann said a target value isn't set in stone.
11% Drop
The Euro Stoxx 50 Index of the biggest euro-area stocks gained 0.2 percent today after earlier falling as much as 11 percent from a six-year high in June. National benchmark indexes rose in nine of the 18 western-European markets today. France's CAC 40 Index rose 0.1 percent, and Germany's DAX Index climbed 0.3 percent. The U.K.'s FTSE 100 rebounded 0.4 percent from a one-year low.
The VStoxx Index, a gauge measuring volatility expectations for euro-area stocks, added 1.6 percent to 23.5, its highest level since February. The measure jumped 17 percent last week and has gained 85 percent since a 7 1/2-year low in June.
Stoxx 600 commodity producers posted the biggest jump among 19 industry groups today after data showed Chinese exports increased the most since since February 2013 last month. Randgold Resources Ltd. gained 4.4 percent after UBS AG recommended buying shares of the mining company.
Synergy Health Plc jumped 31 percent after Steris Corp., an Ohio-based maker of hospital sterilization products, agreed to buy it for about 1.2 billion pounds ($1.9 billion). Nokian Renkaat Oyj climbed 3.1 percent as Nordea Bank AB raised its rating on the stock to "strong buy" from a buy.
Luxottica Group SpA tumbled 9.2 percent after the world's largest eyewear maker lost its second chief executive officer in little more than a month.
Retailers in the Stoxx 600 fell the most as a group, with Booker Group Plc, Ocado Group Plc and Tesco Plc each sliding more than 2.5 percent.
Before it's here, it's on the Bloomberg Terminal.
LEARN MORE