EU, Swiss Accord to End Banks' Differing Probe Disclosure
Hugo Miller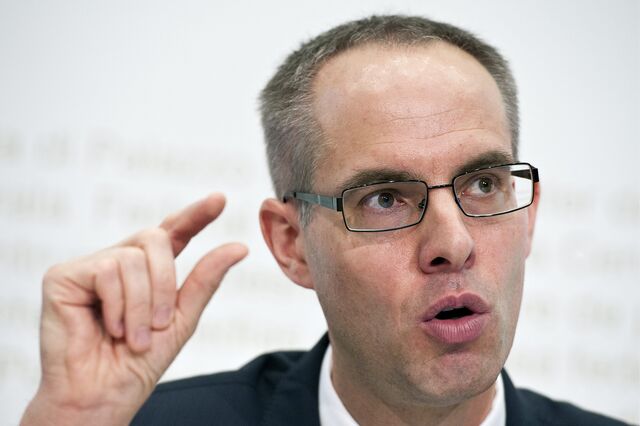 Banks won't be able to play European Union and Swiss antitrust regulators off one another by disclosing different facts to investigators under a recent data-sharing accord, the Swiss agency's president said.
The February deal will take effect in the coming months, bolstering the seven-month-old Swiss Competition Commission probe into alleged manipulation of foreign-exchange rates. The Bern-based regulator has been looking into the issue for more than a year and opened an in-depth investigation into eight firms including UBS AG and Credit Suisse Group AG in March.
"Banks coordinate their defenses in Switzerland, the EU and elsewhere," Competition Commission President Vincent Martenet said in an interview last week. Under the accord, firms "will know they can't play regulators differently, so companies will provide us the same information they give the European Commission."
The accord will also help Weko -- as the Swiss agency is known in German -- to investigate alleged rigging of interbank offered rates. That began in 2012 and is well advanced, while the currency one is less so, Martenet said, declining to go into specifics as they're open matters. Similarly, EU Competition Commissioner Joaquin Almunia said last month its foreign-exchange probe is in its early days. On the EU's investigations into rigging of the London interbank offered rate, some fines have been levied and three interest-rate probes are still under way, including one into the Swiss franc Libor rate.
Different Defenses
Right now, banks "can use the fact that one authority will not have access to information that the other one has and they can prepare their defense a little bit differently," said Dominique Guex, a competition lawyer at Bourgeois Avocats in Lausanne, who has published an analysis of the treaty.
The new accord will have a big effect on future investigations more than the current ones for which most of the evidence has already been gathered, he said.
"It's going to essentially solve the issue of access to evidence," said Guex, who is not working on the investigations. "You have two authorities on both sides of the border which are trying to solve very similar puzzles and it's often the case that one has pieces that are very useful to the other and vice versa."
Credit Suisse said in March that Weko's statement on the probe contains "incorrect references" that were harmful to its reputation. Both the Zurich-based bank and UBS have said they're cooperating with investigations.
Marc Dosch, a spokesman for Credit Suisse, and UBS spokesman Jean-Raphael Fontannaz declined to comment on Martenet's remarks.
Small Staff
Weko has fewer resources than U.S. or European antitrust authorities. About 80 lawyers and economists -- as many as eight of whom work on the currency and interest rate probes -- investigate and report their findings back to the Swiss commission, which has 12 people who decide what to do with the cases. Martenet meanwhile juggles other roles. He spoke to Bloomberg on Oct. 10 at the University of Lausanne, where he also teaches competition law.
U.S. and U.K. financial regulators have been moving faster than their antitrust counterparts on the currency probes, and are striving to announce some settlements with banks next month. U.S. prosecutors could charge a bank in the investigation this year, people with knowledge of the matter have said. A British criminal probe was opened in July and the Swiss Attorney General said in April that it's in contact with regulators.
Reinforcing Cooperation
In response to the growing integration of business on a global scale "major enforcers around the world are responding by reinforcing their cooperation," the EU's Almunia said today in a speech in Brussels.
The Swiss-EU accord, which was ratified by the European Parliament in February, should take effect at the end of this year or early in 2015, Martenet said. While there are many international data-sharing treaties, this is the first to cover confidential information, he said.
The deal could still face a Swiss referendum before it can take effect, Martenet said, adding he doubts one will be held.
One of Weko's next priorities will be to secure similar agreements with French and German regulators, Martenet said, adding such pacts could "certainly re-balance things."
Before it's here, it's on the Bloomberg Terminal.
LEARN MORE