U.K. Lawmakers Anger Israel With Vote for Palestinian Statehood
Thomas Penny and Alisa Odenheimer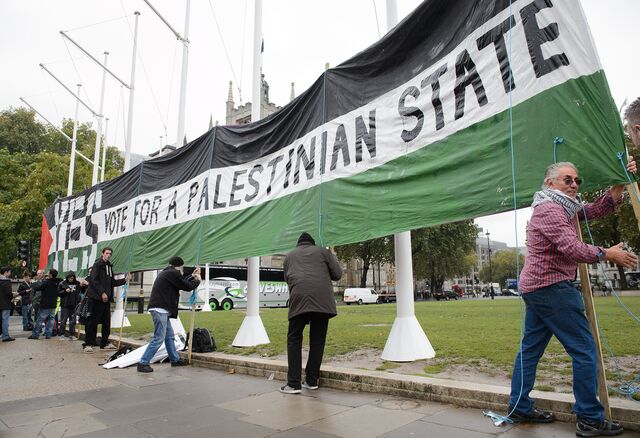 U.K. lawmakers voted to recognize a state of Palestine, in a decision hailed by the Palestinian government and criticized by Israel as undermining the chances of reaching a peace deal.
The House of Commons in London voted late yesterday 274 to 12 to support a motion introduced by rank-and-file lawmakers that says "this house believes that the government should recognize the state of Palestine alongside the state of Israel."
Prime Minister David Cameron, along with other members of the government, abstained on the symbolic, non-binding motion, saying it will not change government policy on Israel. Even so, Israel responded by saying that the route to Palestinian statehood "runs through the negotiation room."
"Premature international recognition sends a troubling message to the Palestinian leadership that they can evade the tough choices that both sides have to make, and actually undermines the chances to reach a real peace," the Israeli Foreign Ministry said in a statement. "Recognition of a Palestinian state should be the result of a successful conclusion of direct peace talks between Israel and the Palestinian Authority."
The decision is the latest move in Europe to show support for the Palestinians. Swedish Prime Minister Stefan Loefven said on Oct. 3 the Palestinians have "legitimate demands for national sovereignty," and therefore his nation "will recognize the State of Palestine" at some point. Several other European states, including Bulgaria, Cyprus, Hungary, Poland and Romania, have made similar declarations.
Historical Injustice
Palestinian Foreign Minister Riad Malki welcomed the British vote, saying it corrects the historical injustice that denied the rights of the Palestinian people.
"Palestine expects the British government to recognize the state of Palestine and respect the decision and translate it to immediate recognition, confirming its commitment to the peace process in accordance with the principle of two-state solution and the establishment of a Palestinian state alongside the state of Israel living in peace and security," he said.
The main opposition Labour Party backed the motion, suggesting the party may change the U.K.'s position if it wins power in the general election next May. Cameron's government, however, distanced itself from the vote yesterday before it took place.
"The government's approach is a long-standing one in support of a two-state solution and we will continue to work with a range of international partners including Israel and the Palestinian Authority in support of that," Cameron's spokesman, Jean-Christophe Gray, told reporters in London.
Before it's here, it's on the Bloomberg Terminal.
LEARN MORE