BOK Seen Cutting Rate to 2% Under Choi Pressure: Korea Markets
Jiyeun Lee and Eunkyung Seo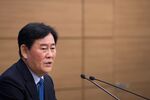 South Korea's central bank is forecast to cut its benchmark interest rate tomorrow to the record-low 2 percent used to fight an economic slump at the height of the global financial crisis.
The seven-day repurchase rate will be lowered by 25 basis points, according to 12 of 22 analysts surveyed by Bloomberg, after being reduced to 2.25 percent in August and left unchanged last month. One predicted a more modest cut, while the rest see no change. The yield on South Korea's three-year government debt dropped to an unprecedented 2.23 percent on Oct. 1, the first time it has fallen below the benchmark rate since July.
The rate-cut speculation mounted after Finance Minister Choi Kyung Hwan said last month there was "sufficient policy room" to boost an economy struggling from weak domestic demand, views he echoed before investors in New York on Oct. 9. Bank of Korea Governor Lee Ju Yeol said in an Oct. 7 parliamentary audit that monetary policy has limits in supporting growth, adding that he hopes government officials would refrain from making market-moving comments on interest rates.
"I was 90 percent sure of this month's rate cut, but now about 60 percent certain after seeing the governor's parliamentary audit," Kim Hong Joong, Seoul-based head of the fixed-income team at Samsung Asset Management Co., said in an Oct. 10 phone interview. "Economic figures suggest this month is the best time to lower the rate, but it could give the impression the central bank is chasing the government's pace, raising questions over its independence."
Slowing Inflation
South Korea's consumer prices rose 1.1 percent in September from a year earlier, the statistics office reported Oct. 1, the least since February and below the central bank's target of 2.5 percent to 3.5 percent. Factory output unexpectedly shrank 2.8 percent in August, a Sept. 30 report showed. Data also showed exports jumped 6.8 percent last month after a 0.2 percent drop in August, and the cyclical leading index rose 0.8 percent.
A 2 percent rate would match the benchmark that prevailed from February 2009 through June 2010 to help the economy recover from the global credit crisis. BOK's Lee said in the Oct. 7 audit that the monetary authority needs to adopt a "conservative stance" in setting the lower range of its optimal benchmark rate. The central bank and government have similar views on the economy, Lee said on Oct. 11, according to a Yonhap News report.
Household Debt
The BOK will probably lower its 3.8 percent growth outlook for 2014 to 3.6 percent and the 1.9 percent inflation forecast to 1.5 percent at its Oct. 15 meeting, according to Kim at Samsung Asset, which oversees some 130 trillion won ($121 billion) as the nation's biggest private fund.
The series of comments from Choi "clearly indicates" the government wants lower rates, Lee Jae Seung, the Seoul-based fixed-income analyst at KB Investment & Securities Co., said by phone today. The influence of political pressure on monetary policy decisions can't be underestimated as the BOK's latest two rate cuts in August 2014 and May 2013 came after government calls to support economic growth, DBS Group Holdings Ltd. said in a report yesterday.
The BOK may hesitate to cut borrowing costs after household debt rose to a record 1,040 trillion won as of end-June, according to the central bank's latest report released Aug. 26. This prompted a few board members to voice the need to monitor the debt increase at the September monetary review, according to minutes released Sept. 30.
Final Cut
Any rate reduction tomorrow will probably be the last in the BOK's easing cycle, according to Neuberger Berman Group LLC, which managed $257 billion of assets globally as of June.
"While inflation remains very low, the recent upturn in leading indicators as well as concerns surrounding household debt mean further monetary accommodation may not necessarily be warranted at this juncture, purely on economic considerations," Prashant Singh, lead portfolio manager for Asian emerging debt at Neuberger Berman in Singapore, said in an Oct. 10 e-mail. The decision to lower rates this month will "at least partially be driven by political factors," he said.
South Korea's won weakened 5 percent since June 30 to 1,064.60 per dollar yesterday, the second-biggest loss among 11 Asian currencies tracked by Bloomberg. The yield on three-year government notes dropped 40 basis points to 2.28 percent yesterday, Korea Exchange prices show, compared with a 18 basis point decline in similar maturity debt in Thailand and a three basis point drop in Malaysia.
Growth Outlook
With South Korean yields already reflecting a reduction in the benchmark rate, Samsung Asset's Kim said he is refraining from taking long positions on the notes. The BOK will hold benchmark rates tomorrow and it will revise its economic outlook, offering hints for the November monetary policy meeting, according to Royal Bank of Scotland Group Plc.
"Governor Lee is openly less convinced about a rate cut, distancing himself somewhat from the finance ministry," Hong Kong-based RBS economists Tiffany Qiu and Louis Kuijs wrote in an Oct. 13 report.
The central bank will lower its outlook for 2014 growth as well as inflation, according to Bank of America Merrill Lynch, which sees the benchmark rate being reduced to 2 percent.
"We may see a meager economic recovery in South Korea, but it's difficult to say the pace can accelerate without policy stimulus measures," Lee Jaewoo, Seoul-based chief Korea economist at BofA Merrill Lynch, said in an Oct. 10 phone interview. "While it takes some time for monetary policy to affect the real economy, it will help boost sentiment and overcome this low-inflation phase."
Before it's here, it's on the Bloomberg Terminal.
LEARN MORE