Bank of America's Moynihan Pioneers DBJ Green Bond: Japan Credit
Finbarr Flynn and Takako Taniguchi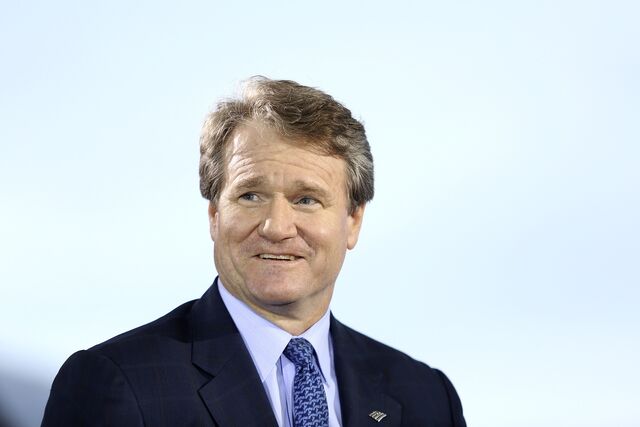 Bank of America Corp. Chief Executive Officer Brian Moynihan delivered on a pledge to spur clean energy investments globally as his bank structured the first green bond sale by a Japanese issuer.
The Development Bank of Japan Inc. raised 250 million euro ($317 million) on Sept. 30 via debt for financing buildings with reduced energy use for lighting and air conditioning. Moynihan was the only U.S. CEO to address the United Nations Climate Summit's finance session on Sept. 23 where he pledged to put the lender's resources behind low-carbon projects.
"I'm thrilled the DBJ have taken the step because they're cracking open the ice," said Sean Kidney, the CEO of Climate Bonds Initiative, which estimates global green bonds sales this year will almost quadruple to a record $40 billion. "What we now need to see is a domestic issuer selling into the domestic institutional market and we firmly believe there will be significant investor appetite but we need proof of concept."
Bank of America was among banks that set out guidelines in January to advise investors on evaluating securities that guarantee to use proceeds exclusively to finance approved environmental projects. While multilateral financial institutions such as the World Bank have led the way in selling green bonds, debuts by publicly traded companies such as GDF Suez and Unilever NV this year gave the market new impetus.
Japanese individual investors helped kick-start the green bond market at the start of the decade, in part attracted by higher yields on the debt sold in currencies other than yen. A local issuer has yet to sell the notes to domestic institutions.
'Eager' Adviser
"Bank of America was originally very eager in providing us with market updates," said Yasuhiro Matsui, the director of the financing division at DBJ's treasury department. While the state-owned lender would like to sell a green bond domestically in the future, it issued overseas this time to tap a larger market for the debt and to expand its investor base, he said.
U.S. President Barack Obama and more than 100 other world leaders met in a summit devoted to climate change in New York last month, sponsored by the United Nations. The summit followed a choreographed run-up including public demonstrations in cities such as New York and London, pledges by corporations and investors and the release of fresh scientific data underscoring the urgency of action.
Carbon Reduction
"We want to take a leadership role in helping remove barriers to investment in clean energy projects around the world," said Bank of America's Moynihan, according to a statement on Sept. 23 by the lender. "The capital we commit and our strong global client and institutional investor relationships can lead to considerable additional investments in a lower carbon future."
A total of 26 investors participated in the sale by the DBJ including a Swedish national pension fund, the World Bank, the IKEA group, and Pictet Asset Management Ltd., according to the Japanese lender. It was more than three times oversubscribed, according to DBJ.
The three-year bond has a coupon of 0.25 percent, according to data compiled by Bloomberg. Japanese bond yields have plunged this year as the central bank buys about 7 trillion yen ($65 billion) of sovereign notes a month to overcome deflation. The benchmark 10-year debt yield has fallen 24 basis points to 0.495 percent this year, while the yen was at 107.30 per dollar at 4:52 p.m. Yesterday was a public holiday in Japan.
"Overseas investors right now are more interested in green bonds than Japanese institutional buyers," said Reiko Hayashi, the head of debt capital markets at Bank of America in Tokyo. "Government institutions that have never shown an appetite for Japanese names before invested."
Issuance Interest
Hayashi said a number of Japanese companies are showing interest in the product. The issuer has to have a "strong will" to sell green bonds because of the need to oversee the funds' use for environmental objectives and provide regular reports on how the money was spent, she said.
A U.S.-based unit of Toyota Motor Corp. sold the auto industry's first asset-backed green debt in March, raising $1.75 billion from investors including California State Teachers' Retirement System to fund the sale and lease of hybrid and electric vehicles including the Prius.
"We have recently seen a growing interest from Japanese issuers in the green bond market," said Stockholm-based Samantha Sutcliffe, principal of green bonds for Asia and the Middle East at Skandinaviska Enskilda Banken AB, which helped come up with the idea. "As an advanced industrial state there is a potential for investors to get exposure to innovative technological solutions addressing the climate challenges Japan is facing."
Sales Managers
Daiwa Securities Group Inc. was the sole Japanese manager on the DBJ deal, which also included lead managers Morgan Stanley and Citigroup Inc. in addition to Bank of America, which acted as the sole structuring adviser.
Sixty percent of the investors were public institutions, with 40 percent of the buyers based in Europe, according to Bank of America. About 70 percent of the total were so-called green investors, according to the bank.
"We seem to have generated a very conservative market in Japan when it comes to innovative products, innovative ideas, or at least the innovation often goes overseas," when it comes to Japan's institutional bond investors, said London-based Kidney, at Climate Bonds Initiative. "We think there's latent demand and we just need some products out there to prove the point."
Before it's here, it's on the Bloomberg Terminal.
LEARN MORE