Adrian Peterson Filing Shows Court Hearing Set for Nov. 4
Laurel Brubaker Calkins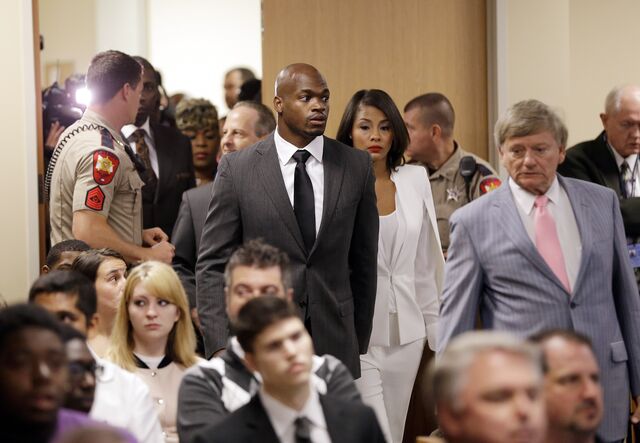 Minnesota Vikings running back Adrian Peterson agreed to reset a court hearing for Nov. 4 in the the felony child-abuse case against him in Montgomery County, Texas, district court.
The papers, which were made public yesterday, were signed Oct. 8 when Peterson made his initial courthouse appearance.
Prosecutors asked for Peterson's arrest last week, saying the National Football League star violated conditions of his $15,000 bond when he told a court worker who was administering a drug test that he "smoked a little weed."
Peterson, 29, was indicted Sept. 12 by a grand jury on one count of injury to a child for disciplining his son with a switch -– a whip fashioned from a thin tree branch. He apologized for the incident and said he never intended to hurt his son.
The Pro Bowl MVP and the Associated Press's NFL Offensive Rookie of the Year in 2007, was put on the league commissioner's exempt list, which means he can't take part in any of the Vikings' team activities and doesn't take up a roster spot. He still gets paid his $11.75 million salary. It's up to the league's commissioner to decide when the exemption should be lifted.
A trial is tentatively scheduled to start Dec. 1.
The case is Texas v. Peterson, 14-09-10024-CR, 9th Judicial District Court of Montgomery County, Texas (Conroe).
(An earlier version of this story was corrected to reflect the nature of the court filing.)
Before it's here, it's on the Bloomberg Terminal.
LEARN MORE