A Pastry Chef Takes Charge, Reinvigorates Aquavit: Review
by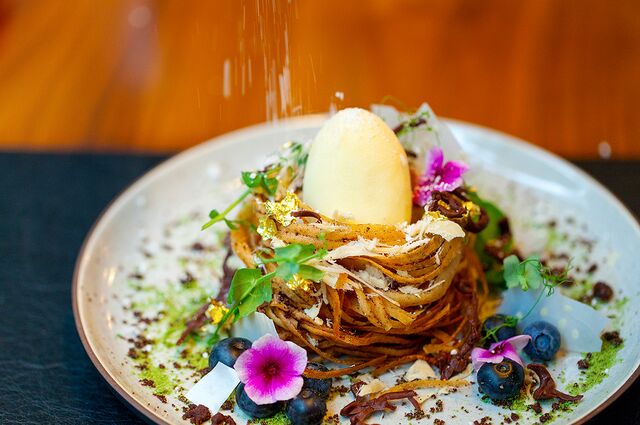 Why go to Aquavit? The old restaurant has been wedged for nearly a decade in a dreary concrete and glass block on 55th Street. And as you are sitting in one of those high-backed leather chairs that look like they were nicked from an abandoned conference room, the seats cracked from the wear and tear of a thousand bottoms that sat here before yours, you might wonder why you bothered.

But then a small clay dish arrives and a server pulls away the lid. A rush of sweet smoke dissipates to reveal a few tiny potatoes, no bigger than peanuts, draped in pickled mustard seeds. The server pours over a little potato and leek soup, silky and bright. It's just a couple of bites to get you in the mood before Emma Bengtsson's eight-course tasting menu ($135) really kicks off, but it's delivered gracefully and tastes precisely of fall.
Bengtsson, who was born on Sweden's west coast and raised in Stockholm, was the pastry chef at Aquavit for four years until this spring, when she took command of the entire kitchen and earned the restaurant a second Michelin star. Those who were already paying attention to her work on desserts might have noticed the chef's style quietly evolving in the pastry kitchen, pushing the aesthetics toward something less stark. Bengtsson rarely emerges from the back of the house, but her dishes can be stylishly loud, glamorous, and complex, often wearing many layers of texture and color.

Take the dessert that closes out the tasting menu. Bengtsson first introduced her Arctic Bird's Nest in 2011 to replace a fine, but predictably presented dessert of goat cheese parfait and blueberries called the Arctic Circle. She reconfigured the elements into something far more extravagant and wild-looking, and it has evolved over the years into a proper masterpiece. It's now a cool, egg-shaped parfait in a delicately thin shell of white chocolate that hides a soft, jammy core of sea buckthorn gel resembling a softly cooked yolk. The egg is cradled in thin strands of crisp pastry, and knotted with blossoms and pea shoots, twigs made of tempered chocolate, and a fine snow of frozen yogurt. The dish is stunning and delicious, with savory notes. It's also one of the few plates where a bit of gold leaf has made me smile, instead of roll my eyes. That's because here the fluttering, battered piece of gold caught in the nest isn't there to distract the eater from a mediocre dessert, as it usually is, but to add a detail to the story -- it makes it easy to imagine being this bird, snatching up something shiny.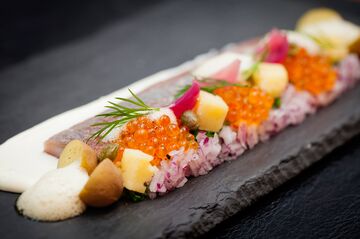 When it comes to savory dishes, the chef doesn't hold back either. The sweetbread course, which is built up in a kind of old-fashioned tower, is aggressively stinky with a hot, frothy crown of queso de Valdeón (a Spanish blue cheese). Still, you keep going back for more. At first it's hard to say why it works, and then it's obvious: Bengtsson has built a dish with the elements of a classic cheese plate -- apple, cabbage, candied walnuts – around offal. These ingredients belong together.
The dining room could use an update. At these heavyweight prices (entrees around $40), I think it's fair to expect a much higher level of comfort and style. The cloud-colored sheep skins thrown over the backs of some of the wooden chairs are pretty (and extraordinarily soft), but they don't quite save the room from feeling cold and corporate. There are raccoon fur-covered stools for handbags, but it's not clear how the servers decide who needs one and who can manage without.
Though service is unobtrusive and mostly smooth, it can be slightly uneven. I am thinking of a particularly brusque server who always looked away from my table when he spoke, somewhere off to the other side of the room, as if we were boring him. There weren't many, but at moments like this one I thought back to that tiny bite of potatoes and smoke, and to the timing and professionalism of the servers who'd delivered it. It had promised a level of elegance that the entire meal didn't always deliver. Later in the tasting menu, that smoke presentation was repeated with a lovely dish of gravlax, feathers of dill, and see-through petals of radish. And as the server lifted the glass dome and the sweet smell of the smoke filled the table, it was slightly anticlimactic, like when someone tells you the same joke twice in one evening.
But Bengtsson's technique is consistently on point: The skin on the duck breast is wonderfully crisp; lamb is cooked perfectly rare; a small bowlful of barley risotto with black truffles is dense and creamy, but sharp with acidity, too. She is a pastry chef, tuned in to balancing sweetness, but Bengtsson also has a serious understanding of bitterness. There's a beautiful dish of delicately scored, seared foie gras on the tasting menu, also available a la carte ($29), accessorized with flowers and plums. And it's what's underneath -- a dark smear of charred shallots, like a caramel cooked to its smoking point -- that elevates and complicates the dish, reminding us that even though Aquavit is 27 years old, the restaurant still has something interesting to say.
Tejal Rao is the New York food critic for Bloomberg. Follow her on Twitter @tejalrao or contact her at trao9@bloomberg.net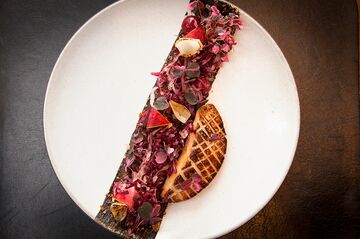 Aquavit is at 65 E 55th Street (Midtown); +1 212-307-7311 or aquavit.org

Rating: Two Stars

What to order: The chef's tasting menu is the way to go: $135 for eight generously portioned courses plus many small extras like smoked potatoes in soup, and a shot of aquavit with a hot froth to sip before dessert. If you don't have three hours for dinner, do the five-course tasting menu ($95) or go a la carte and try the charred gravlax ($23), Long Island duck ($47), and Arctic Nest ($20).

Who's next to you: A father and his son in matching blue blazers, out for their monthly dinner; a French couple giggling as they feed each other bites of caviar on toast; well-dressed, impossibly elegant New York couples on dates.

Need to know: There is a bar and lounge that takes walk-ins if you'd like to try just a couple of dishes and sip on aquavit (or keep things simple with meatballs with mashed potatoes and lingonberries).

Soundtrack: Joao Gilberto strumming and singing romantic things in Portuguese; American jazz, with an emphasis on female vocalists.
Before it's here, it's on the Bloomberg Terminal.
LEARN MORE