U.K. Starts Eurostar Stake-Sale as Osborne Seeks to Cut Debt
Scott Hamilton and Chris Jasper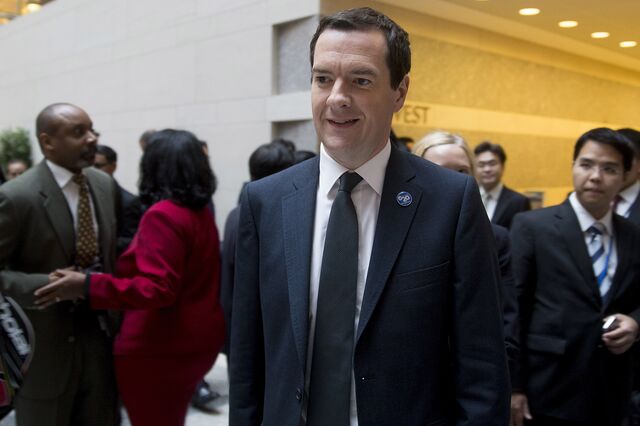 The U.K. government has begun an auction of Britain's stake in Channel Tunnel passenger-train operator Eurostar International Ltd. as it seeks to raise billions of pounds from asset disposals and reduce public debt.
Chancellor of the Exchequer George Osborne is inviting expressions of interest from potential buyers of the U.K.'s 40 percent holding in Eurostar, which is majority owned by France. Interested parties have until Oct. 31 to respond, and the government aims to achieve definitive agreements in the first quarter of 2015, according to a statement from the Treasury.
The disposal is part of a move to offload 20 billion pounds ($32 billion) of assets by 2020, paring Britain's borrowings and shifting more companies out of state ownership. Osborne is seeking to position his Conservatives as the political party of economic credibility prior to next May's general election, and last month said further public-spending cuts or tax increases are needed in order to balance the budget.
"I am determined that we go on making the decisions to reform the British economy and tackle our debts," Osborne said in the statement. "The sale proceeds would make an important contribution to the task of reducing the public sector debt."
The disposal doesn't include any track assets or involve Groupe Eurotunnel SA, a listed company that manages the tunnel and operates rail shuttles that carry vehicles through it.
Royal Mail
The opposition Labour Party said any Eurostar sale should be put on hold until results of a report into the management of U.K. privatizations are received. Business Secretary Vince Cable asked former Treasury minister and ex-Marks & Spencer Group Plc chairman Paul Myners to lead the review after an outcry over the valuation of Royal Mail Plc, whose shares closed 38 percent higher on the first day of trading last October.
The government published its pre-qualification letter on the Eurostar disposal today and said UBS AG is advising on the auction, having also helped price and sell Royal Mail. The country's net debt totals 1.4 trillion pounds, or almost 80 percent of gross domestic product.
Eurostar, whose core routes link London with Paris and Brussels, carried 10.1 million passengers in 2013 and had an operating profit of 54 million pounds on sales of 857 million pounds. It's seeking growth via services to more continental destinations, while facing competition from Deutsche Bahn AG, Europe's biggest rail operator, which plans London services.
French Government
The U.K. is the No. 2 shareholder in Eurostar, with the French government holding 55 percent via state rail company SNCF, or Societe Nationale des Chemins de Fer Francais. Belgian state railway SNCB owns the remaining 5 percent.
Eurostar paid a dividend of 18.6 million pounds to its owners in 2013, of which the U.K. received 7.4 million pounds. In 2012, Britain got a dividend payout of 6.5 million pounds from a total of 16.3 million pounds.
Labour's transport spokeswoman, Mary Creagh, said the National Audit Office should conduct a value-for-money assessment before any sale, adding: "Eurostar is a national strategic asset that is set to grow and to return increased profits to the U.K. taxpayer."
The sale will feature a series of bidding rounds, with interested parties likely to be led by infrastructure, pension and insurance funds. The Sunday Times newspaper reported this month that the stake is worth about 300 million pounds, and that Paris-based Antin Infrastructure Partners and Ardian, the private-equity firm spun out from AXA Group, are mulling bids.
At the end of the auction, SNCF retains a legal right to buy the stake at a 15 percent premium to the best bid.
New Fleet
The disposal comes as Eurostar gears up for its biggest expansion in years, with new e320 trains ordered from Siemens AG due to link London with Amsterdam from December 2016, with stops in Antwerp, Rotterdam and at Schiphol airport.
At the same time, it faces new competition as Deutsche Bahn plans services from Germany to London via the Channel Tunnel. Eurostar is also seeking more transfer customers as the addition of direct trains to Lyon, Avignon and Aix-en-Provence showcases options for using its routes in long-distance trips.
The company is meanwhile aiming to expand beyond tunnel services through a joint bid with the Keolis unit of SNCF for the right to operate the U.K.'s East Coast link between London and Edinburgh.
Before it's here, it's on the Bloomberg Terminal.
LEARN MORE