Pistorius Court Told He's a 'Broken Man,' Should Avoid Prison
Andre Janse van Vuuren and Christopher Spillane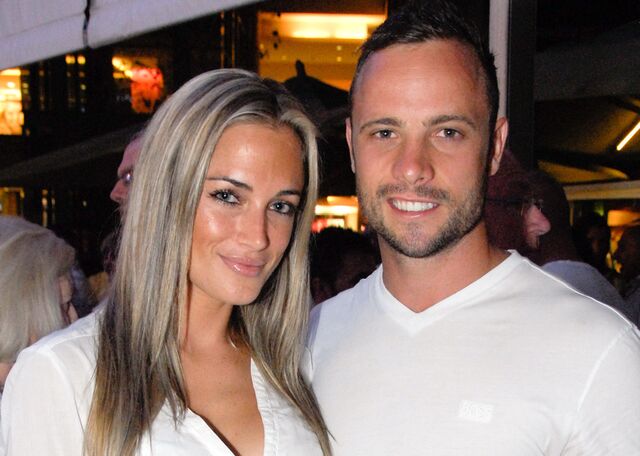 Oscar Pistorius's lawyers pressed their argument that the Paralympic gold medalist shouldn't serve time in prison for killing his girlfriend Reeva Steenkamp on Valentine's Day last year.
Defense attorney Barry Roux started his case for mitigation at the High Court in Pretoria, South Africa's capital, by calling Pistorius's psychologist Lore Hartzenberg to testify. She said Pistorius needed ongoing psychological therapy and that he was suffering from post-traumatic stress disorder, was guilt-ridden by Steenkamp's death and was devastated by "constant negative attacks against him."
"We are left with a broken man who has lost everything," Hartzenberg said. "He's unlikely to fully recover from the consequences of the shooting incident."
Joel Maringa, a social worker at the prisons department, told the court he recommended a sentence of correctional supervision, which may include house arrest and community service, for three years. Pistorius's community work may include 16 hours a month of work such as cleaning.
"That is shockingly inappropriate," prosecutor Gerrie Nel responded.
Judge Thokozile Masipa, 66, will hand down the sentence after Roux and Nel finish calling witnesses. His punishment could be as little as a fine. The hearing adjourned for the day and will resume tomorrow.
Masipa cleared Pistorius, 27, of murder charges before convicting him of culpable homicide for killing Steenkamp when he fired four hollow-point bullets through a toilet door in his house in the early hours of Valentine's Day last year. Pistorius said he thought Steenkamp was an intruder.
House Visit
A sentence of correctional supervision would mean that "placed under the authority of a correctional officer who can basically visit his house or check on him whenever he or she wants," Marius du Toit, a Pretoria-based criminal-defense lawyer, said by phone.
"I've seen guys cleaning buses or going to work in a hospital or working at a police station or something to that effect," he said.
Pistorius's manager, Peet Van Zyl, described the athlete's charitable works for the United Nations Children's Fund as well as to raise awareness about HIV and malaria. Tennis player Novak Djokovic, U.K. Olympic chief Sebastian Coe and former soccer star Bobby Charlton asked Pistorius to be involved in their charity works, he said.
'Accommodating Person'
"I have yet to meet a more accommodating person, a more humble person that will always go out of his way to make other people feel at ease," Van Zyl said.
Hartzenberg said that during their counseling sessions, Pistorius was "very emotional."
"Some of the sessions were just him weeping and crying and me holding him," she said.
During his cross-examination Nel said that while Pistorius was a broken man, "he's still alive." Nel said he would present evidence that Steenkamp's father, Barry, suffered a stroke after the shooting.
Known as the Blade Runner because of his J-shaped prosthetic running blades, Pistorius was the first double amputee to compete in the Olympics. His trial drew a worldwide audience and derailed the running career of the winner of six Paralympic gold medals and cost Pistorius sponsorship deals with Nike Inc. and Luxottica Group SpA's Oakley.
Rio Olympics
"I cannot do anything up until we know the eventual outcome of the trial," his manager Van Zyl said, referring to sponsorships.
After his conviction, Masipa extended his bail of 1 million rand ($91,000). Pistorius will be free to compete at the 2016 Olympic Games in Rio de Janeiro as long as the judge doesn't hand down a multiple year jail term, South Africa's Olympic Committee said last month.
Steenkamp's family has expressed disappointment with Masipa's ruling.
"This verdict is not justice for Reeva," June Steenkamp, Reeva's mother, told NBC News last month. "He shot through the door and I can't believe that they believe it was an accident."
Before it's here, it's on the Bloomberg Terminal.
LEARN MORE