Obama Makes Cautious Return to Campaign Trail
With his approval numbers at record lows, Obama will hit the stump for Governor Dannel Malloy in a state he won in 2012 by 17 points.
By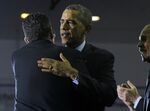 President Obama is itching to get back in the game. With Democratic control of the Senate hanging by a thread, and several statehouse races too close to call, the president, to his dismal approval ratings, has been relegated to the role of spectator. But on Wednesday that will change when the president makes a rare campaign appearance of the mid-term election, appearing alongside Connecticut Governor Dannel Malloy at a rally in Bridgeport.