Julian Castro Does Not Want to be President, Now or 'Ever'
The 40-year-old rising star in the Democratic Party was unequivocal on the question of a White House bid.
By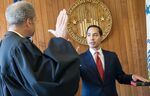 Julian Castro, a rising star in the Democratic Party, dismissed speculation on Sunday that he is being groomed for the White House, saying he had no plans to run for president – "probably ever."
"I guarantee you I'm not going to run for president," he said in an interview with ABC's "This Week" that aired Sunday morning.
"I have never woken up in the morning and seen in my future, when I look in the mirror, and said, 'Oh, I think I could be president,'" Castro added. 
Castro left his job as the mayor of San Antonio to work as head of the U.S. Department of Housing and Urban Development earlier this year. He's been traversing the country in recent months, meeting with state and local housing officials, and lending a hand to Democratic candidates like Senator Mark Begich, who is trailing his Republican challenger in Alaska. 
On Sunday, Castro also tried to dampen rumors that he will be on the short list of possible running mates for Hillary Clinton if she decides to run for president in 2016.
"I don't believe that I'm going to be vice president," he said, adding that he planned to stay in Washington until Obama's term ends, then return to Texas. 
All of this isn't to say that Castro hasn't thought about higher office. When asked if he would be interested in become the executive of his home state, Castro finally gave the calculated non-answer you'd expect from a young, ambitious politician.
"There were definitely mornings where I work up and wished there was a different governor of Texas, that's fair to say," he said. "I'm 40 years old right now, and so I feel like I have a lot of time to figure out where the opportunities are."