India's Top-Growing Large State Seeks to Copy China Boom
Bibhudatta Pradhan and Abhijit Roy Chowdhury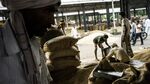 The chief of India's fastest-growing major state says it's time to build wealth through factories instead of farmland.
Madhya Pradesh, a state larger than Italy and more populous than the U.K., must emulate China, Japan and South Korea to help its 73 million people become richer, Chief Minister Shivraj Singh Chouhan said in an Oct. 9 interview. The landlocked state's economy grew 11 percent in the last financial year, twice as fast as the country as a whole, government data shows.
"In the field of agriculture, Madhya Pradesh has reached its peak," Chouhan, a member of Prime Minister Narendra Modi's Bharatiya Janata Party who has governed the state since 2005, said in Indore as he hosted an investment conference. "Now we need to move toward industrialization."
Modi is pushing to lure foreign investment into manufacturing to boost growth and improve living standards that are the lowest among major emerging markets. He needs to work closely with state leaders to make that a reality, Frederic Neumann, an economist at HSBC Holdings Plc in Hong Kong, said by phone.
"The federal government isn't as powerful in India as is often claimed," Neumann said. "You need the cooperation of states and for them to follow the same agenda, otherwise ambitions of national reform will falter."
State Powers
India's constitution gives states control over decisions that are central to attracting investment, a devolution of power at the root of uniting a nation with 1.2 billion people who speak as many as 780 languages. While the federal government can give tax incentives to industries and environmental permits for specific projects, state leaders have power to provide land-use permits along with electricity and water supply.
Modi called on states to adopt business friendly policies during an address to the Madhya Pradesh investment conference. China, Japan and the U.S. had pledged a combined $100 billion in investment into India, he said.
"Now it is the turn of the states to capitalize on the opportunity," Modi said. "The roads are wide open. The states that are ready can walk away with a major share."
Madhya Pradesh is one of four Indian states where agriculture accounts for more than 20 percent of gross domestic product, according to an HSBC report last month. To attract more investment in industry, it needs a reliable power supply, better road and rail connections to ports and a reduction in red tape, the report said.
Industry Struggles
Madhya Pradesh's farmers have helped its economy surge over the past decade. The agricultural sector grew 23 percent last year, the most of any Indian state.
By contrast, the state's industrial sector has struggled. Madhya Pradesh was one of three states that saw manufacturing contract last year, with growth in the industrial sector as a whole slowing to 2 percent, Planning Commission data shows.
That mirrors a wider slowdown throughout India. The country's manufacturing sector shrank 0.8 percent in the year through March compared with 1.3 percent growth in the previous 12 months, according to the Central Statistics Office. Industrial output shrank 0.5 percent.
Chouhan said investors should pick Madhya Pradesh because it has plenty of water, land, electricity and a business-friendly government. It introduced a single window for investment clearances, simplified labor laws and has a bank of more than 25,000 hectares (62,000 acres) of land for investors to build factories, he said.
$113 Billion
"A lot of projects which were stuck now have been cleared, de-bottlenecking has happened and all these have improved the investment climate," billionaire Baba N. Kalyani, chairman of Bharat Forge Ltd., said of Modi's government. "States which are taking highly proactive approaches, like Madhya Pradesh and Gujarat, will be able to attract maximum investment."
The government last week cleared 19 defense sector projects, including those of Reliance Aerospace Technologies Pvt. and Bharat Forge, the Press Trust of India reported.
"'Make in India' is starting from Madhya Pradesh," Federal Trade Minister Nirmala Sitharaman told the conference last week at Indore, the state's commercial capital. "Madhya Pradesh is working like a magnet to attract investment. The state government is saying the right words and walking extra miles to attract investment."
Chouhan said the government and private investors pledged to invest 6.9 trillion rupees ($113 billion) during last week's conference, without specifying a timeframe. Leading India industrialists including Mukesh Ambani, chairman of Reliance Industries Ltd., and Gautam Adani, founder of the Adani Group, pledged more than 800 billion rupees ($13 billion) in investments into Madhya Pradesh.
More Competition
That's more than double the $6 billion in overseas investment Madhya Pradesh has attracted since 2000, or less than 1 percent of India's total during that time.
"It's good that competition is happening among states for investment," said Gautam Hari Singhania, chairman of Raymond Ltd., a Mumbai-based textile and tooling company, who attended the conference. "We've had a very good experience in Madhya Pradesh and will continue to invest."
Chouhan said Modi's government is more committed to removing roadblocks to investment than his predecessor. The federal government gave environment clearances to 60 long-delayed projects in Madhya Pradesh within two months after Modi took office in May, Environment Minister Prakash Javadekar told the conference.
Modi "has a vision for the country's industrialization," Chouhan said. "We are now getting more support."
Before it's here, it's on the Bloomberg Terminal.
LEARN MORE