Iron Price War Deepens Crisis in Ebola-Stricken Sierra Leone
Thomas Biesheuvel, Jesse Riseborough and Silas Gbandia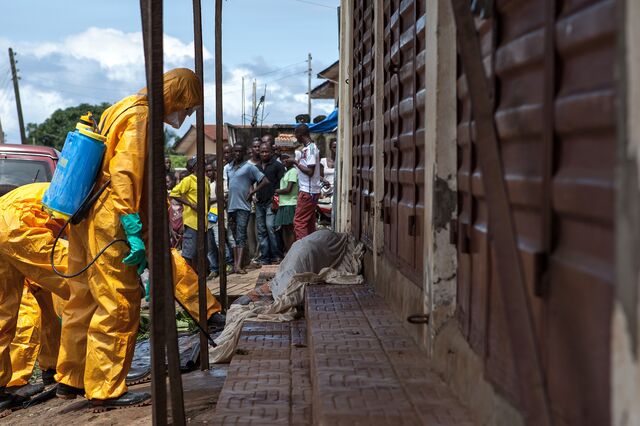 In Sierra Leone, one of the poorest countries in Africa, the hardships of Ebola hit at victims and non-victims alike.
Sulaiman Kamara, a handcart pusher in Freetown before the outbreak began in May, used to earn 50,000 leones ($11) a day, before a shriveling economy took away his job. The 42-year-old father of three now hawks cigarettes and candy on streets with shuttered shops and restaurants, empty hotels and idling taxis. Some days, he's lucky to make a quarter of his former earnings.
Things are about to get worse again. Iron ore, the biggest export earner, is in a major tailspin, leaving Sierra Leone's two miners on the verge of collapse and jeopardizing 16 percent of gross domestic product in a country where output per person was just $809 last year.
Used in steelmaking, iron ore has slumped 39 percent this year as the world's largest miners spend billions of dollars expanding giant pits in Australia and Brazil. Digging up ore that's less rich in iron and operating with restrictions imposed to stop the disease's spread, local producers can't compete.
"The impact of Ebola in terms of iron-ore revenue is huge," said Lansana Fofanah, a senior economist in Sierra Leone's Ministry of Finance and Economic Development. "Iron ore is responsible for the country's double-digit growth since 2011 until the Ebola outbreak."
Iron Royalties
Iron ore contributes more in mining royalties than any other mineral to government revenue, which has plunged since the outbreak began, and as the budget deficit worsens, the International Monetary Fund has agreed to step in.
The economy will grow at half last year's pace, the World Bank forecast, even before the volatility in the global commodity markets threatened more upheaval in a country that's had to rebuild itself since the end of a 12-year civil war in 2002.
African Minerals Ltd. is the biggest single contributor to Sierra Leone's economy, employing 7,000 people at the Tonkolili mine that cost more than $1.7 billion to build and started in 2011. As ore prices have fallen, the London-based company's stock has slumped 92 percent this year as the company tries to renegotiate loans and strip out cost to remain profitable.
"African Minerals continues to operate, and myself and the CEO continue to rotate between West Africa and our London office," Chairman Frank Timis said in an e-mailed statement. The stock fell 1.5 percent to 16.25 pence at 10:38 a.m. in London.
London Mining
The other producer in the country, London Mining Plc, is down 96 percent this year and said last week that its shares had no value as it looks for a rescue investor. The stock was suspended from trading on Oct. 10 after it said the only investors it was still engaged in talks with were those not seeking to keep the company operating.
London Mining didn't respond to phone calls or e-mails seeking comment.
"It's an unfortunate side effect of the markets," Jimmy Wilson, head of iron ore at the world's largest miner, Melbourne-based BHP Billiton Ltd., said last week as he announced a $2 billion plan to produce more from its mines.
"Any person that actually ends up losing their job because their company closes through no fault of their own we don't take any joy from that," he said, admitting the strategy would hurt higher-cost competitors. "At the end of the day, it's a reality of the world we live in."
Royalty Payment
African Minerals' royalty payment to the nation dropped to $1.3 million in July 2014 from an average of $2.5 million monthly before, Fofanah said, citing the Preliminary Assessment of the Impact of the Ebola Outbreak on the Sierra Leone Economy.
Goldman Sachs Group Inc. forecast the global surplus in the commodity will triple next year as output expands and a property slump and tight credit conditions restrict demand growth in China, the biggest consumer.
"The majors want to protect market share and their feeling is that if they don't build the capacity, someone else will," Richard Knights, an analyst at Liberum Capital Ltd. in London, said by phone. "This is capitalism. It's the way the mining industry works. High-cost mines get put under pressure in periods of oversupply."
Western Australia
While BHP works to increase production, Rio Tinto Group, the world's lowest-cost producer, plans to raise capacity to 360 million tons a year by 2017 from mines in Western Australia. Brazil's Vale SA, already the biggest producer of the commodity, wants to double shipments to China in five years, it said in August.
"The only difference about me not introducing my tons is that the shareholders for Rio Tinto will lose out on a long-term stream of very profitable investment," Andrew Harding, head of Rio's iron-ore unit, said on a Oct. 9 call with reporters. "It's probably a harsh reality of the international competitive market place."
London-based spokesmen for BHP and Rio declined to comment further.
It's not only in Sierra Leone that miners have been affected. Sable Mining Africa Ltd., which is developing an iron-ore mine in Guinea, has tumbled 85 percent this year, while Bellzone Mining Plc's shares have been suspended while it seeks funds needed to keep its operations running.
Victim Numbers
Ebola has killed more than 4,000 people in Africa, mostly in Guinea, Sierra Leone and Liberia. The U.S. Centers for Disease Control and Prevention has projected the outbreak could surge to as many as 1.4 million cases by January without further intervention.
Sierra Leone's miners have been helping the fight against Ebola, by testing employees, providing equipment and raising public awareness in often remote areas.
"The resources of these operators have been important, particularly as they tend to operate in hinterland districts with a weak government presence," said Thomas Hansen, a senior African Analyst at Control Risks.
Larger miners have also offered aid. Earlier this month, BHP announced a $400,000 donation to help fight Ebola.
Yet for street hawker Kamara, who's sent his two elder children to stay with grandparents outside the disease-riddled capital, there's little prospect of help.
"I pray every day to God to have mercy on us and end this Ebola disease in my country, or else we are getting deeper into suffering," he said. "Things are really hard for me and nobody cares."
Before it's here, it's on the Bloomberg Terminal.
LEARN MORE